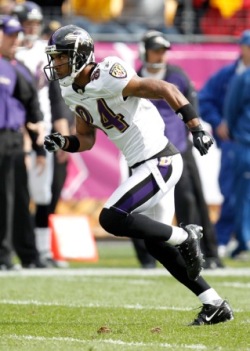 Posted by Josh Katzowitz
The fall from being one of the league's top possession receiver to near irrelevance has been a quick ride for
Ravens
WR
T.J. Houshmandzadeh
.
From 2005-2009, he caught at least 78 passes a season for at least 900 yards, and though he was never an elite downfield (or home run) threat, he was always one of the better guys in the league at securing that third-down catch and making the tough grab in traffic across the middle of the field.
This year, though, has been a bit of a disaster. Despite signing a five-year, $40 million contract with Seattle in 2009, the
Seahawks
released him in September. He signed with the Ravens, where he was the third receiver behind
Anquan Boldin
and
Derrick Mason
(not to mention TE
Todd Heap
), and now that Donte Stallworth is returning to the team, Houshmandzadeh (nine catches, 128 yards, one touchdown) figures to fall further into the abyss.
Naturally, he's not pleased with his role.
"I like being here, I really do," Houshmandzadeh told Fox 1370 radio, via the
Baltimore Sun.
"It's just, anybody that's a competitor, you want to play, period. I'm no different than anybody else. That's it. You're winning. And that's just the situation I'm in. I'm not going to cry about it.
"Do I like it? No. You work for Fox 1370 AM, and if you weren't allowed to do what you thought you did well, I don't think you would like that. I'm no different than anyone else on the work force, I just happen to play football. That's it. It's no different. I want to play because I think I'm good at what I do, but we have a lot of good players, so it's not just me."
But as for regrets with signing with Baltimore, he doesn't have any. The ultimate goal is still within reach.
"As long as you have a chance, an opportunity (to play in the Super Bowl), then it's always worth it," Houshmandzadeh said. "Once you get to that point – it's so far away, you know – but just to get an opportunity to have that chance, then of course it's worth it."
For more NFL news, rumors and analysis, follow @cbssportsnfl on Twitter and subscribe to our RSS Feed .