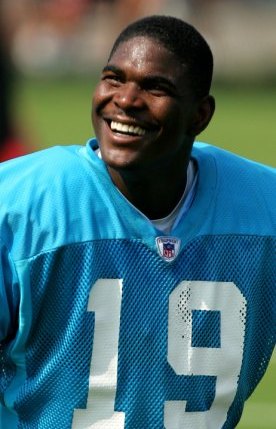 Posted by Josh Katzowitz
Keyshawn Johnson is a busy man. Since retiring from the NFL in 2007 after an 11-year career in which he made the Pro Bowl three times, he's been an ESPN analyst, the host of an A&E show called
Keyshawn Johnson: Tackling Design,
and a business man.
Now, he's partnering with Captain Morgan for a year-long project that allows fans to post their own Captain Morgan's pose on
Facebook
, and for every pose uploaded, the company will donate to the First Mate Fund, which was created to benefit non-profit organizations. "It's all for charity," Johnson said. "Every time you upload a picture, Captain Morgan donates a dollar."
We caught up with Johnson, and he gave us some interesting answers regarding
Randy Moss
, Brad Childress' authenticity, Mike Shanahan's truth-telling skills, and why the
Bengals
haven't produced with
Chad Ochocinco
and
Terrell Owens
lining up on the field.
Previous Five Questions (or More):
Oct. 29:
Chargers
LS
Mike Windt
Oct. 22:
Bengals WR coach Mike Sheppard
Oct. 15:
Redskins
WR
Anthony Armstrong

Oct. 8:
Patriots
LB
Rob Ninkovich
Oct. 1:
Kent Babb of the
KC Star
Sept. 24:
Texans
WR
Kevin Walter
Sept. 17:
former Bengals,
Titans
DT John Thornton
Sept. 11:
Seahawks
RB
Leon Washington
1. CBSSports.com:
Obviously, the big topic this week was Randy Moss. Now that he's going to Tennessee with a guy you know pretty well in Jeff Fisher, how do you think he'll do with the Titans?
Keyshawn Johnson:
I think he'll do well. You have a strong-minded coach with a strong head there, and I really think Jeff has done a tremendous job in terms of getting players to play for him and do the things he's asked in his 16-year tenure. He gets players to respond for him. There are only a handful of coaches who can do that, and he's one of them.
CBS:
Is that what you need for a guy like Moss? Obviously, it didn't work with Brad Childress, but it did work with Bill Belichick. It seems like Fisher is a coach that can command that kind of respect.
Johnson:
It's really about how you approach people and how you talk to people. You don't have to scream, you don't have to yell. It's the way you approach a guy like Randy. If you approach him and you're authentic and not being some phony fake-ass guy, he's going to respect it. You think he was born yesterday? He knows phony when he sees it. I'm sure he realized Brad Childress isn't for real and that he's a phony guy. He went in with no respect for him. Then, Childress recognized it and thought the best thing he could was to cut bait.
2. CBS:
When a guy yells at the people who cater the food in the locker room, though, what …

Johnson:
If that happened, it's shame on Randy. You don't demean somebody for their cooking skills. Just don't eat it. I've been on many teams where I didn't like the food. So I brought my own food.

CBS:
But when you have a guy being a jerk like that, how does that affect the rest of the locker room?
Johnson:
I wouldn't say that it would affect the locker room. It's always one or two guys on the team who are trying to be the coach's pet and who are going to stand out and take on the big fish. There are always one or two guys. That's the realness about it. That's the normal way it goes. Every team, you have one or two guys that side with the coach and not the players. The other 50 guys side with the players.
CBS:
If that's the case, how do the rest of the guys respond to those one or two players?
Johnson:
You deal with those guys at face value. You don't give them much. You don't tell them anything, because basically, you know they're going to snitch.

3. CBS:
The other big story this week was
Donovan McNabb
and how Mike Shanahan pulled him and replaced him with
Rex Grossman
with the game on the line. I was watching that game, and when he did that, I was very confused.

Johnson:
Very, very confusing to those of us that don't really know how coaches work. Since I know how they work, it wasn't confusing to me. But he could have explained to Donovan or explained to the media a little bit better than just lying. All you have to do is lie to me once, and I won't let it happen again. Players know it. But they're not going to say it, because they have families to feed.

4. CBS:
Regarding the Bengals, with Chad Ochocinco and Terrell Owens and a good running game, did you think T.O. and Ochocinco would have had more of an impact on the team? Did you think that team would be better than it is?
Johnson:
I thought they would be better. But statistics aren't going to make you better. You need to have some cohesiveness in terms of how you deal with each other and the team and players around each other. There has to be something there to be able to deem yourself a championship-caliber football team. They don't have that. That's why they struggle. They're 2-5, and at the end of the year, they're probably going to have be looking for a new head coach.
5. CBS:

How much of it falls on Marvin Lewis? I know he was a popular guy in the locker room …



Johnson:
It's so hard to win in places like that. It's just hard. It's a constant losing vibe. You can win 50 games, and you feel like you lost. It's just a whole perception, and it's hard deal to deal with.
For more NFL news, rumors and analysis, follow @cbssportsnfl on Twitter and subscribe to our RSS Feed .