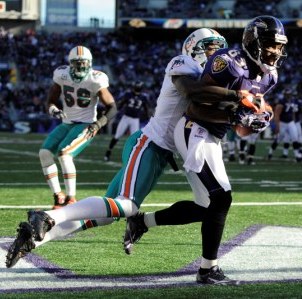 Posted by Josh Katzowitz
Oh, to be a scribe in the locker rooms of the
Dolphins
and the
Ravens
after Baltimore knocked off Miami 26-10.
First, you'll have to recall that Ravens WR
Derrick Mason
, who's 36 years old, didn't like the fact Dolphins LB
Channing Crowder
called him "the old guy" earlier this week. And yeah, it didn't seem that it should have been a big deal, because after Crowder called him old, he still said Mason was one hell of a receiver. He might have been disrespectful, but it didn't seem intentional.
Even so, Mason fired back, saying, "He was still peeing himself when I was playing football."
Naturally, Mason had a decent enough day, catching four passes for 42 yards and a touchdown as Baltimore routed the Dolphins, and afterward, he said Crowder is a horrible football player and that he'll probably be out of the NFL before Mason retires. Apparently, the game got pretty nasty as well.
After the contest, Crowder accused Ravens FB Le'Ron McClain of spitting in his face in the third quarter.
"He spit in my face and that's the reason I got mad," Crowder told reporters, including the
Miami Herald.
"He's a bitch-ass punk. Write that."
McClain, you may respond:
"Nah, I didn't spit on him. That's crazy. That's not my game. I'm Le'Ron McClain, man. Le'Ron McClain don't spit on another player. But I will block you. Four quarters. That's a fact."
So, McClain denied the charge. Doesn't matter to Miami LB
Karlos Dansby
.
"Man, if I'd have seen that, there would have been a damn brawl out there, straight up," Dansby said. "We some tough guys. But if you take a cowardly way like that, you need to be straightened. Hopefully, Roger Goodell will look at the film and he'll do something about it. If he don't, we'll see him in the street and we'll have to handle it like men.
"For you to spit in the guy's face and walk away, that's a coward move. That's a coward move. They supposed to be some tough guys. They ain't all that tough, they pull a coward move like that. They ain't that damn tough."
Tough enough to beat up on the Dolphins, though. Definitely that tough at least.
UPDATED (6:49 p.m.):
Didn't see these quotes originally, but
ESPN.com
had a few bonus comments from Crowder - who probably needs a review of WWII history.
From the story:
Crowder said when he complained to the officials, they told him they didn't see McClain spit at him.

"Then they said something about they let [Dolphins linebacker] Karlos Dansby get away with a facemask the play before," Crowder said. "Who the f--- cares? A guy just spit in my face! I don't give a damn about Karlos pulling somebody's facemask. Like they didn't see [Dolphins quarterback] Chad Henne get hit twice when he slid. Yeah, a little Stevie Wonder and Anne Frank."

Asked what the Anne Frank reference meant, Crowder said "Who was that? Is that the blind girl? Helen Keller ... I don't know who the f--- Anne Frank is. I'm mad right now. F--- it. I'm not as swift as I usually am.

"That's the first time I've ever been spit in my face in my life. And that's the worst thing you can do to a man as another man, spit in somebody's face. Why would you do that? Why would you try to? Because you're scared of me? Really? Spit on me and then walk away real fast and let your team protect you? That's what he did."
Not real good (or swift), eh?
For more NFL news, rumors and analysis, follow @cbssportsnfl on Twitter and subscribe to our RSS Feed .