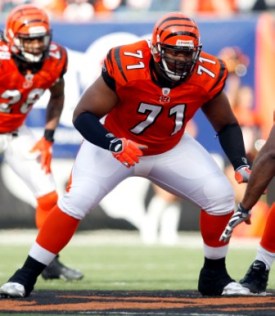 Posted by Josh Katzowitz
Just when it appeared former
Bengals
first-round pick
Andre Smith
was turning a corner in his career, the foot he broke in practice this week might keep him out the rest of the season.
That's what
Bengals.com's
Geoff Hobson is reporting.
It's the same foot the offensive tackle broke last year in the preseason when he came into training camp overweight for his rookie year. He also had offseason surgery after last year that made him ineffective for much of this season, much to the Bengals coaching staff's chagrin.
But he's begun to improve, enough for him to earn the spot at starting right tackle. Now, though, it appears his season is finished.
And the consequences might not be pretty for Smith.
From Hobson:
Complicating the physical concerns are the financial issues. The Bengals have to decide this offseason if they want to exercise a $5 million option in his deal that would make it a six-year contract or decline it and keep it at four years.

The fear is that what happened this past year will happen again. He got heavy enough while rehabbing (some reports had him as high as 375 pounds) that it delayed his return to the field. It is believed he is down to 345 pounds after some furious dedication in the cardio and aerobic room but he'll be warned a repeat performance would jeopardize his career.

Lewis doesn't think it will happen because he's matured. They've had their moments. He deactivated Smith for the third game in Carolina when he wasn't happy with him. But asked what another injury like this does to Smith's career, he said, "Nothing. It means it's another bump in the road."
For more NFL news, rumors and analysis, follow @cbssportsnfl on Twitter and subscribe to our RSS Feed .