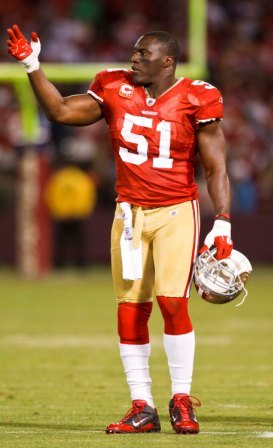 Posted by Josh Katzowitz
Takeo Spikes
, the
49ers
veteran LB, has been hugely effective in this league for more than a decade, mostly playing on teams that couldn't break the .500 mark. He's a two-time Pro Bowler, but he's never been to the playoffs.
Though the 49ers are coming off their bye week with a 2-6 record, there's reason for hope in San Francisco. The team is coming off a big win against the
Broncos
in London two weeks ago, and Spikes still feels like the team has a chance to compete in the NFC West.
We caught up with Spikes, and we discussed his worldliness, the team's quarterback situation and how he continues to motivate himself.
Previous Five Questions (or More):
Nov. 5:
former WR, current NFL analyst Keyshawn Johnson
Oct. 29:
Chargers
LS
Mike Windt
Oct. 22:
Bengals
WR coach Mike Sheppard
Oct. 15:
Redskins
WR
Anthony Armstrong

Oct. 8:
Patriots
LB
Rob Ninkovich
Oct. 1:
Kent Babb of the
KC Star
Sept. 24:
Texans
WR
Kevin Walter
Sept. 17:
former Bengals,
Titans
DT John Thornton
Sept. 11:
Seahawks
RB
Leon Washington

1. CBSSports.com:
So, you got back from London before the bye week. Aside from the big win, how was the UK?

Takeo Spikes:
London was cool. I like it because it breaks up the monotony of the season. I've never been to Europe before. I've been to other places, but not to Europe. To go over there and see a different culture was cool. I'm a people person. I went to different restaurants and to see the different sights that you learn about in school when you're in social studies. It was a great experience.

CBS:
I've been to your hometown of Sandersville, Ga., and I know it's a small town. When you were growing up there, did you ever think about exploring the world? Did you think the NFL could help you do that?
Spikes:
I always knew that I wanted to go places. But I never knew I'd go as many places as I've been. Football has allowed me to experience much more than I could have even fathomed.
2. CBS:
Let's talk about the win against Denver. How big was that?
Spikes:
It was a great win for us. Knowing what we've been through during the entire eight games. Just looking back at the last couple weeks, we've noticed a lot of improvement. We've gone out the last three games, and if you look at the film, we've gotten better. We got a much-needed spark with Troy (Smith at QB) coming in. To be able to display what we displayed in London in Wembley Stadium, it was great. The fans were unbelievable. A lot of guys figured it was like playing in college again because there were 85,000 people there.
CBS:
You guys went straight from Carolina to London, while Denver spent a couple extra days at home. Do you think it helped that the 49ers flew out early to let your bodies adjust?

Spikes:
I think it helped. To be honest, we got there Monday morning, and we didn't recover until that Thursday. That's when everybody's bodies were back on schedule. I can't even imagine doing what Denver wanted to do and expect them to feel well-rested and alert. I know for us, even on Wednesday, I still couldn't go to sleep on time.

CBS:
Could you tell during game that Denver wasn't as well-rested?

Spikes:
That, I don't know. I had good intention to ask those guys. I talked to them when they got off the plane on Thursday, and they said they felt fine. But damn, it must have been tough.
3. CBS:
What did
Troy Smith
give you? I know quarterback has been a problem area. You could really see it in that Monday Night game against the
Saints
when the crowd started chanting for
David Carr
. But now you go with Troy Smith, and suddenly, it clicks. Why?

Spik
es:
Just with Troy's presence. He's a guy who's not only confident in his abilities but he makes everybody feel confident about themselves and what he's about to do when we step on the field. I know it's only one game. But if he's going to continue to be the quarterback, I liked his performance. He made plays down the line when we needed plays to be made. That's big for us, because as a defensive unit, we know you can only hold up for so long.

CBS:
I think it was surprising because Smith had never shown that before when he was in Baltimore.

Spikes:
It's about timing and opportunity. When you get the timing and the opportunity, you have to take advantage of it.
4. CBS:
You know, your career is fascinating to me. You've played at such a high level for so long, but you've only been on one team that's finished with a winning record. After 12 years in the league …

Spikes:
Thirteen years.
CBS:
After 13 years, how do you still get excited about football, even when the teams you've played on haven't been so good?

Spikes:
I walk on faith. I think that's the bottom line. Back in the day, early in my career, you don't know anything about how a team is supposed to feel, and not understanding the reasons why we're paying quarterbacks $10-12 million per year. If you have a good quarterback, you're able to go out and compete no matter how bad your defense is. That's a fact. Earlier in my career, I didn't understand that. I thought the defense could do it all. But you still need help. Now, how do I keep myself going? I'm surrounded by a great group of guys, and it's an even push. They push me all the time. I know what we can be. I see us working toward that as a defense.

5. CBS:
You guys must feel the NFC West is still ripe for the taking.
Spikes:
No doubt about it. This division is still ripe for the taking. We finished the first hard part of our schedule. All the time in this league if you start the season off good, you're going to go through adversity at some point. The true test is how you come out of it. We have a shot, and it's no pressure on us. Nobody is expecting anything from us anyway.
For more NFL news, rumors and analysis, follow @cbssportsnfl on Twitter and subscribe to our RSS Feed .