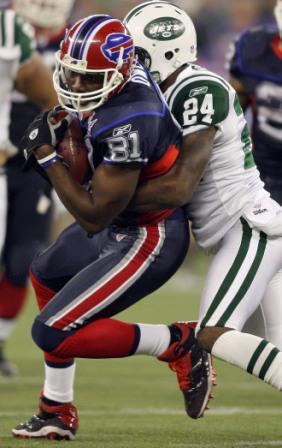 Posted by Josh Katzowitz
When
Bengals
WR
Terrell Owens
said today that the DB he'll face Thursday was just an "average" cornerback (though Owens later
sort of backtracked
), I was interested to figure out if Owens' comment was, in fact, accurate.
Taken at face value, Owens' statement was ridiculous – after all, most of us here consider Revis the best cornerback in the league – but
Pro Football Focus
told CBSSports.com tonight that Owens' claim wasn't that far off the mark.
Sort of.
If you'll recall, Revis was nursing a bad hamstring early in the season – you'll probably remember
Randy Moss
absolutely dominating Revis for a 34-yard TD catch in Week 2 – and at the time, he
was
playing far below his standards.
"It reflected badly in some horrible numbers when he did play," PFF wrote in an e-mail. "At one point, he had the poorest yards per catch average of any corner in the league. In the three of the four games where he was thrown at before Week 7 this season, he allowed QBs to have a 100+ QB rating."
Obviously, those numbers are fairly horrendous. Since Revis' injury has improved, though, he's begun to return to his dominant play. He hasn't allowed a QB rating over 70 since Week 7, and he's recorded five pass deflections while not giving up a touchdown.
"Overall, Revis' 2010 numbers shake out to something like an average player," PFF writes. "In that respect T.O. is right, but they're all on an upward trend back towards the '09 player we saw last year."
The reality, though, is that the Revis who Owens saw on tape earlier in the season is not the same Revis he'll see Thursday. Which why making those statements today perhaps wasn't the smartest move Owens could have made.
And for the record, last year, when Owens was with the
Bills
, Revis (according to the
NY Daily News
), held Owens to a combined six catches for 44 yards in two games. Yeah, not so average.
For more NFL news, rumors and analysis, follow @cbssportsnfl on Twitter and subscribe to our RSS Feed .