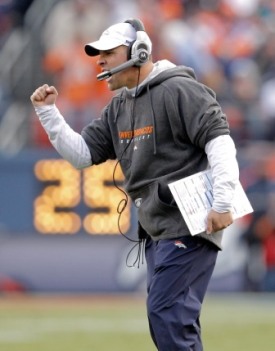 Posted by Josh Katzowitz
The
Denver Post
is reporting that the NFL is investigating whether the
Broncos
illegally taped a
49ers
practice a day before the teams played in London.
The team's director of video operations, Steve Scarnecchia, is on a "personal leave of absence," Broncos chief operating officer Joe Ellis confirmed to the paper. According to the
Post
, Scarnecchia did not travel to San Diego last week and did not appear at the Broncos complex this week.
The paper contacted Scarnecchia at home, but he declined comment, as did NFL spokesman Greg Aiello. Head coach Josh McDaniels could not be reached for comment.
You might recall that McDaniels was employed by the
Patriots
when they were found to have illegally videotaped the
Jets
coaches sending in signals during the course of a game in 2007. Scarnecchia also is a former New England employee, but he wasn't with the team in 2007, though he has been accused of being overly vigilant in taping other teams' signals (even, U.S. Sen. Arlen Specter made mention of it on the Senate floor in 2008).
The illegal taping this year is alleged to have occurred Saturday, Oct. 30 when both teams had access to Wembley Stadium for their final walk-throughs in preparation for the game San Francisco won 24-16.
This is what McDaniels said about the Spygate incident in New England when he was originally hired by Denver.
"I don't think it is good," he told reporters. "To have that kind of attention was a distraction, and I think that is how we all treated it. We tried to do the best we could to limit those distractions every week, and it will be no different here. Certainly we are never looking to do anything that is not within the rules established by the National Football League."
For more NFL news, rumors and analysis, follow @cbssportsnfl on Twitter and subscribe to our RSS Feed .