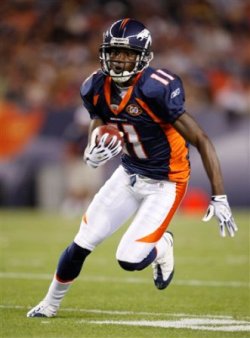 Posted by Will Brinson
The Arapahoe County Sheriff's Department has closed the case on Kenny McKinley, the former Denver Bronco and South Carolina Gamecock who committed suicide earlier this year, and revealed some very tragic details about McKinley's life leading up to his death, namely that he had a significant gambling debts when he took his own life.
The 131-page Arapahoe County Sheriff's Department report obtained by the Associated Press also contains information from the Sheriff's Department indicating that McKinley purchased the gun from teammate
Jabar Gaffney
. However, the Arapahoe Sheriff Grayson Robinson said there was nothing illegal about the sale.
"Kenny told me he wanted a gun for his personal protection and being that I have a couple of legally owned firearms, I sold him one of mine that I didn't want anymore," Gaffney said in a statement to deputies.
McKinley also discussed the possibility of suicide with three of his teammates, including former Broncos quarterback
Tom Brandstater
, who told the investigators that he lent McKinley $65,000 and that McKinley owed $40,000 to a casino in Las Vegas.
Brandstater told investigators that about a week before he lent him the money, McKinley said "that he could save everyone the burden and just kill himself." Brandstater said it was awkward and they laughed it off.
In addition to the money he owed Brandstater -- which had only been paid back via items McKinley gave his teammate as collateral -- McKinley had been ordered by a South Carolina court to pay $3,000 a month in child support and expressed to teammates that he was concerned about his ability to take care of his young son.
At the insistence of his financial advisor, Brandstater had a contract drawn up between he and McKinley, a copy of which the Denver
Broncos
had in their possession, indicating the debt and documenting the collateral (two watches valued at $30,000, the titles to McKinley's two cars and a gold necklace) McKinley gave to Brandstater for the loan.
Leading up to the loan, Brandstater told investigators, that he and McKinley had dinner for 10 straight nights trying to "hash out ways to fix" McKinley's financial problems.
McKinley's father, Kenneth McKinley, as saying that he and his wife were getting many letters for their son at their home in Mableton, Ga., from casinos in Las Vegas. He said bill collectors also were calling his house asking for his son and that he had spoken with his son about managing his money better.
The elder McKinley said he also suspected his son was having financial problems because he had only recently begun using a credit card that he'd given him in college. Neither Brandstater, Gaffney or McKinley's father had returned messages from the AP at the time of the report, and the Broncos declined to comment out of respect to McKinley's family.
AP Sports Writer Pat Graham contributed to this report. For more NFL news, rumors and analysis, follow

@cbssportsnfl

on Twitter and subscribe to our
RSS Feed
.