Posted by Andy Benoit

When the
Jets
and
Patriots
met back in Week 2, the decision for what to do with
Darrelle Revis
was simple: stick him on
Randy Moss
. Revis on Moss meant no vertical passing game for the then-downfield-attack-oriented Patriots.
Obviously, things are different this time around. Revis is still a shutdown corner (he's been arguably better this season than last season) but the Patriots no longer have their dangerous big-play slouch outside. An offense that was once built around Moss is now built around a consortium of mid-range weapons: Wes W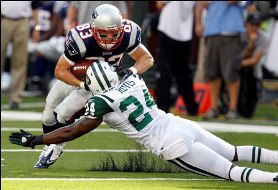 elker,
Brandon Tate
,
Deion Branch
and
Aaron Hernandez
.
So which one of these four will the Jets glue Revis to Monday night? The name that immediately comes to mind is Welker, New England's leading receiver. However, so many of Welker's routes are underneath and drags, which are nearly impossible to take away. Sacrificing your shutdown corner to prevent a bunch of five-to-eight-yard receptions that might not be preventable anyway doesn't seem worthwhile.
Style-wise, Revis on Tate would make the most sense. But Tate has just 18 receptions on the season. If he's taken away, there's no guarantee
Tom Brady
would even notice.
This leaves Hernandez and Branch. Hernandez is a tight end, though a lithe tight end whom Revis could certainly handle from a size and strength standpoint. But what does New York do when Hernandez leaves the slot and lines up directly beside an offensive tackle? (There's a reason you don't see shutdown corners shadow tight ends.)
So does this mean the Jets will put Revis on Branch? He doesn't quite have his old explosiveness, but the recently-reacquired veteran still leads the Patriots with 61.9 yards per game. Those aren't Calvin or
Andre Johnson
numbers, though.
Revis and the Jets aren't saying what they'll do. Here's an idea: instead of having Revis shadow one player (and if they do choose a player, the guess here is they'll choose Branch), why not move him around? That would make Tom Brady's job more difficult, particularly in the presnap phase. It would also allow New York more chances to disguise coverages and help prevent the Patriots from getting in the type of aerial rhythm they enjoyed during the second half at Detroit.
For more NFL news, rumors and analysis, follow

@cbssportsnfl

on Twitter and subscribe to our
RSS Feed
.