Posted by Andy Benoit

1.) Panic in Indy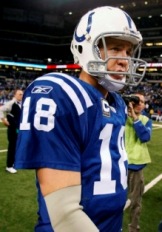 The story here is that this was the top story last week. The Colts lost at home because they couldn't run the ball against a 3-4 defense (San Diego's) and Peyton Manning threw four picks, two of them for touchdowns, thanks to a handful of uncharacteristic misreads. No one expected to see a rerun of this disaster, but that's exactly what Indy produced Sunday.
And so now the Colts, having lost four of five, are 6-6 and on pace to miss the playoffs for the first time since Jim Mora's famous rant. Panic time? Not really.

The Colts still controls their own destiny. Their remaining four games are: @ Tennessee (Thursday night), vs. Jacksonville, @ Oakland and vs. Tennessee. If the Colts win out, they'll finish 10-6. Even if the currently-first place Jaguars finish 10-6, the Colts would win the tiebreaker because they'd be 4-2 in division games (like Jacksonville) and one game better than the Jags against common opponents.

The Colts are losing primarily because of Manning's mistakes (both pick-six's against the Cowboys were his fault). Eleven interceptions have the active legend coming off arguably the worst three-game stretch of his career. But to bet against the Colts would be to bet that Manning continues to blow it. Is that a bet you really want to make?


2.) The AFC's new best running back

We can thank one guy for giving us a great divisional race in the AFC South this year: Maurice Jones-Drew. On Sunday, not only did Jones-Drew's Jaguars put away the now also-ran Titans (aka The Team That Allegedly Signed Randy Moss), but Jones-Drew officially catapulted himself ahead of Chris Johnson in running back pecking order of the AFC.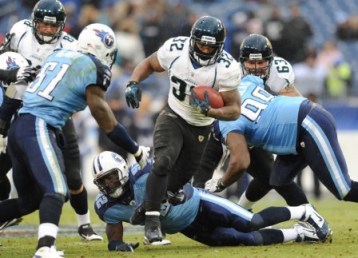 Jacksonville's 5'7" bowling ball outrushed Johnson 186-53. The 186 marked a career-high and extended Jones-Drew's 100-yard streak to five games (another career high). If not for our understandable infatuation with quarterbacks, Jones-Drew would garner serious MVP consideration. It is not a hyperbole to say he has Michael Turner's tackle-breaking ability, Darren McFadden's acceleration, Steven Jackson's vision, Ray Rice's hands, Frank Gore's heart and Clinton Portis' pass-blocking prowess. Because of his often unheralded contributions on third down (blocking, decoy routes, etc.), Jones-Drew means more to the Jaguars offense than any non-quarterback means to any other offense in football.

This has actually been the case the past few years. The difference this season is that Jones-Drew is not doing it utterly alone (at least not lately). Experience has afforded backup running back Rashad Jennings a much better feel for the speed and angles of the pro game, and the youngster is now good for about 40 yards a week off the bench. Tight end Marcedes Lewis has sprouted into a consistent intermediate receiving weapon, which has forced linebackers to worry about more than just Jacksonville's backfield. And finally, the Jaguars offensive line has gelled as a run-blocking unit, despite a few personnel changes (namely Ebon Britton being out at right tackle and Vince Manuwai moving back to left guard and replacing Justin Smiley).

But take MJD out of the equation and none of the players mentioned above would be thriving. And, thus, neither would the first-place Jaguars.


3.) Running Power

While we're slurping the ground game, have you noticed the number of lopsided rushing performances we've had lately? Take a look at what has transpired the past two weeks.

Week 14:

Jaguars outrush Titans 258-57 and win

Vikings outrush Bills 210-84 and win

Giants outrush Redskins 197-74 and win

Raiders outrush Chargers 251-21 and win

Cowboys outrush Colts 217-40 and win (by the way, it probably would have been fair to Manning if these 217 yards had been mentioned in the opening section about the Colts' struggles…)
Week 13

Steelers outrush Bills 206-74 and win

Jaguars outrush Giants 207-135 but lose (only 61 yards in second half for Jags)

Vikings outrush Redskins 137-29 and win

Texans outrush Titans 188-24 and win

Dolphins outrush Raiders 186-16 and win

Chiefs outrush Seahawks 270-20 and win

Chargers outrush Colts 129-24 and win

49ers outrush Cardinals 261-13

Jets outrush Bengals 170-46
Don't mean to pull a Stevie Johnson and go all caps on you here, but LOOK AT THOSE NUMBERS!!! Look how many games these past two weeks have been decided by teams that have utterly DOMINATED on the ground. We're not talking about teams merely establishing the run and controlling tempo – we're talking about teams outrushing opponents by 125, 180, even 200-plus yards!

Look, it could just be an aberration. Seriously, it could. If we've learned anything over the past five seasons or so, it's that the NFL is a quarterback-driven league and that the teams that win are the teams that make plays through the air. Two weeks of startling run statistics don't overturn five years of rock-solid passing evidence. But these running numbers are certainly something to keep an eye on. We'll check back on it next week.


4.) The secret favorites of the NFC…?

Sorry Bears fans, this bit isn't about your team (though for the record, I'll admit that your team's offense has figured out its pass protection issues and all the individual offensive players seem to have found their niche in Mike Martz's system). This bit is about the New York Giants.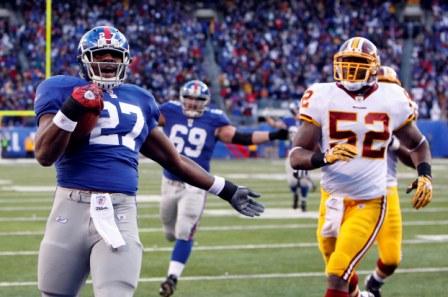 The Giants were able to run at will against a Redskins defense that seemed to a.) Have 11 Albert Haynesworths on the field Sunday and b.) Probably missed the services of their actual Albert Haynesworth.

The Giants hope to get wideouts Steve Smith (pec) and Hakeem Nicks (lower leg procedure) back in Week 14. Left tackle David Diehl (hamstring) is also nearing a return. All three will be joining a team that is 8-4 and running the ball with tremendous effectiveness. Ahmad Bradshaw got 25 carries Sunday and went over 1,000 yards on the season. And though Brandon Jacobs' return to a starting role appears to be only titular – Jacobs carried the ball just eight times Sunday – the 265-pound freight train looks reinvigorated. Jacobs produced 103 yards and two scores against Washington; last week he gained 87 yards in a win over Jacksonville.

Jacobs evokes memories of another running back from New York: Shonn Greene in '09. The Jets elevated the role of their bruising runner late last season and watched the rookie punish defenses that simply couldn't match his freshness. The Giants appear to be in a position for similar results with Jacobs.

On the other side of the ball, New York's four-man pass-rush is clicking. Justin Tuck continues to play like an All-World force. Osi Umenyiora has cooled from his torrid early-season pace (Umenyiora's sack against Washington was his first since Week 6) but rookie Jason Pierre-Paul now fills almost any void. The über-athletic long-armed first-rounder has posted two sacks in back-to-back games.
We know better than to hang our hats on the Giants when expectations are high (Tom Coughlin is never more than two weeks away from a hot seat), but all evidence suggests that this soon-to-be-healthy team is peeking.


5.) Slugfest!

On Saturday night, I was explaining to a friend why American Gangster is my favorite movie of all time. Because of the star-studded cast of characters (Denzel, Russell Crowe, directed by Ridley Scott), R rating (which, let's face it, is a MUST if you're going to make a veritable gangster movie) and naturally compelling storyline (a true story about innovative Harlem drug dealer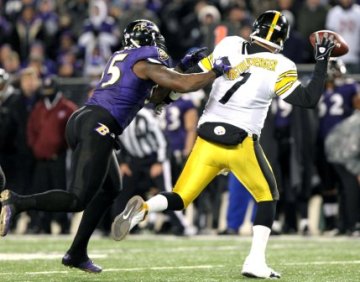 Frank Lucas) I went into that movie with dangerously high expectations. The type of expectations that can only be fulfilled by being surpassed. Remarkably, American Gangster did just that. (How it wasn't even nominated for Best Picture in '07 is still a mystery.)

The Ravens-Steelers game Sunday night was the American Gangster of NFL games. It was a primetime game that more than lived up. We got the fist fighting chess match we all expected. We got the tight finish driven by big plays. And, like with Denzel and Crowe, the stars showed up.

Ben Roethlisberger's foot seemed to get healthier as the night unfolded (which is odd because, from what I hear about painkilling shots, they tend to wear off over time). How great was Roethlisberger's throwaway on first-and-10 late in the fourth quarter when Terrell Suggs had him in the grasp? Almost as great as Cris Collinsworth said it was (which means it was a 9.9/10). Suggs was phenomenal the entire night, once again proving he's the best playside run-defending OLB in football and impossible for guys like Steelers backup-turned-starting left tackle Jonathan Scott to contain on passing downs.

The Roethlisberger throwaway play was originally made possible by Troy Polamalu's forced fumble on Joe Flacco. It was Polamalu's second individual play in the backfield that night (he had an impressive stop on Willie McGahee in the first half) and second consecutive game-changing performance in the closing minutes of a close contest. Polamalu's late-game brilliance at Buffalo and Baltimore highlight the difference between star and superstar.

Of course, if Joe Flacco doesn't short-arm the final fourth-and-two pass to Ed Dickson, we might be talking about how Baltimore's third-year quarterback has orchestrated two game-winning touchdown drives against the vaunted Steeler defense this season. (Think that might have accelerated Flacco's rise to the top quarterbacking echelon in the court of public opinion?)

Tough loss for the Ravens, though in a game like this, you have to first say "great win for the Steelers." Before we move on, a few more quick notes from this one:

**Fans can be quick to criticize Steelers cornerback Bryant McFadden. On Sunday night he was, in a word, awful. But don't rush to the conclusion that the sixth-year pro can't play. Overall, McFadden is one of the soundest No. 2 corners in the game. He's always had trouble regaining his traction when things start to slip – that's why the Cardinals gladly let him return to Pittsburgh – but that doesn't mean he slips very often.

**Rashard Mendenhall has been fantastic this season (in this game he became the eighth rusher this season to surpass the 1,000-yard mark) but he needs to be called out for his alligator arms on the pass in the flats where Terrell Suggs was bearing down on him. Those weren't even alligator arms – they were snake arms. Hard to blame a guy for not wanting to take a shot from Suggs (especially when Suggs, at the time, was bleeding profusely from the mouth and almost literally looking rabid). But Mendenhall will be blamed – did you see Roethlisberger's reaction to Mendenhall's snake arms?

**You have to believe that Haloti Ngata is the best defensive lineman in the NFL simply because that's what every single announcer says every single week.

**The Ravens were just 4/13 on third down, but two of those four conversions were on 10-plus-yards-to-go situations on their first half touchdown drive.


6.) Bengals-Saints

Say what you will about Marvin Lewis' club, but that's a group that knows how to give. And that group hasn't just started giving because of the holidays. No, that's a group that has been giving all season long. Did you see the way they gave the Saints a ninth win on the season Sunday? (By the way, that's two weeks in a row now that Drew Brees has led a game-winning last second comeback drive on the road. He's not exactly beating teams known for their mettle and heart, but in the NFL, a win is a win – especially on the road.)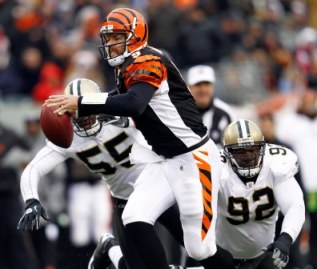 One play from this game in particular stood out (think you can probably guess which one). The Saints, trailing by three, had fourth-and-two on Cincy's seven-yard line with 34 seconds left. They lined up for one of those "try to get the defense to jump offsides" plays in which the defense never jumps offsides. Except this time Bengals defensive tackle Pat Sims DID jump offsides. Saints defensive tackle Sedrick Ellis, apparently unaware of the federal law prohibiting all players from saying anything real or the least bit honest about an opponent after a game, couldn't help but talk about the gaffe. "What is that guy doing", Ellis asked rhetorically. "You have to be smarter than that."

Yup, you do. Otherwise, you put your team behind in a position to fall behind (the Saints followed through on the inevitable by scoring a go-ahead touchdown immediately after Sims' mistake) and you give your quarterback a chance to make a major error in clock management.

That's the part of this equation that might get overlooked. After the Saints pulled ahead, Bernard Scott put the Bengals in good field position with a solid kick return. Carson Palmer completed a short pass to fullback Brian Leonard for 14 yards, leaving the ball at New Orleans' 37. That's where the Bengals needed to use their final timeout with 13 seconds left (and note to broadcasters worldwide: that would not have been the Bengals "burning" their final timeout; it's not "burning" a timeout if you're using it to preserve precious seconds on a final drive). But instead of calling timeout, Palmer tried to line the offense up to spike the ball. It took five seconds before he realized that was a terrible idea.

So the Bengals burned not their final timeout, but rather, five crucial seconds before using their final timeout. Then during the timeout they set up the perfect play to allow Saints safety Roman Harper to blitz clean and end the game with a sack.

All in all, this game was a classic case of one team knowing how to win and another knowing how to lose. And, afterwards, we finally got some postgame gripes from the league's most targeted wide receiver: "Dude, it doesn't matter if I'm 46 (years old) or 47, I ball when I'm out there," Terrell Owens said in a tone that seemed to say don't you understand??? "(Me saying this) is not a distraction. All I want is opportunities…The film don't lie. The film don't lie. Watch it. Watch it."


7.) The story we just can't shake

It's not fair – by virtue of them playing the Bills, we were supposed to get a break from all Vikings stories (and thus all Brett Favre stories) this week. Instead, Favre took a nasty blow on the third play of the game, injured his shoulder and didn't return. There's probably some complicated-sounding name for whatever injury Favre has. And he'll probably be questionable for the upcoming Giants game. And now we'll probably be forced to talk about the streak and the concept of the Vikings building for the future, etc.

What makes this week's story particularly irritating is that we got to see Tarvaris Jackson play. Whether you like Jackson or not is irrelevant. The problem is that by Jackson playing, we now have actual footage of the young quarterback (who, in his fifth season is not actually young) taking snaps for the 2010 Vikings. This means there is actually something to talk about with Jackson. Which means we're going to have "Favre or Jackson" debates all week.

We can debate whether Jackson's three interceptions (including that ugly pick-six to Drayton Florence) are a sign that he's nowhere near ready to replace Favre or a sign that he's so ready to replace Favre that, look!, he practically IS Favre. We can hold the same debate about the athleticism Jackson flashed in making sandlot plays to Sidney Rice (two touchdowns).

In the end, we're still talking about an over-covered 5-7 team that's all but out of playoff contention. Except now, that 5-7 team is 2-0 under interim head coach Leslie Frazier and is technically NOT out of playoff contention. So we might get to talk about Minnesota's playoff chances, as well. Can't wait.


8.) How the NFC West will be won

Instead of "how the West will be won", perhaps a more appropriate headline would be something along the lines of "how one team will technically not lose the West". Let's hope the team that doesn't lose the West is either the Rams or Seahawks. Both of those clubs won on Sunday. The Rams beat Derek Anderson and the hilarious Cardinals (who may now have to hang their hat on rookie quarterback John Skelton moving forward), while the Seahawks swarmed Jimmy Clausen and the putrid Panthers. Both clubs are 6-6.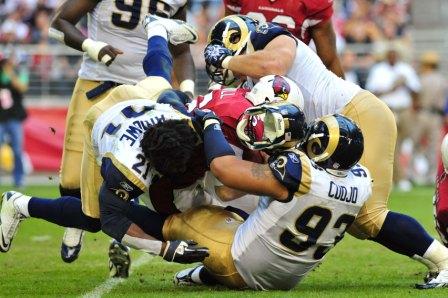 The Rams and Seahawks both have a game left against the hapless 49ers (who, by the way, verified in their loss at Green Bay that their quarterback can only throw what he sees and can only make simplified reads like on screen passes or play-action bootlegs). If both teams can beat those Niners, then the worst-case scenario we'd have in the West would be the 7-8 Rams and 7-8 Seahawks squaring off in a "win and you're in" Week 17 showdown. That would ensure at least a .500 division winner.

But should the Niners beat either the Rams or Seahawks in the next few weeks, we'll probably get the 7-9, or perhaps even 6-10, division champion that we're dreading. Then the discussion will be a clash between two sides of common sense. One common sense side will say that a 7-9 team should never be in a tournament in which a 10-6 team is left out. The other common sense side will say that the NFL cannot rewrite its playoff rules on the fly simply because it doesn't like what those rules produced.

The latter common sense side will win, of course. This entire mess has come about because the league didn't fix this problem when it had a chance. In 2008, the 8-8 Chargers stole a playoff spot from the 11-5 Patriots by virtue of the Chargers winning the pathetic AFC West. In the ensuing offseason, the league should have decreed that only teams with winning records have their playoff spots guaranteed. (Or, the league could have at least ruled that no .500 or below team gets in the playoffs at the expense of a team that is three games better in the standings).

Instead, the league sat idly by and essentially said, "This scenario doesn't happen often anyway. And besides, those 8-8 Chargers wound up knocking off the Colts that year, so you can't say they didn't deserve it."

Problem was, those Chargers DIDN'T deserve it. To say they deserved a chance based on their playoff performance is to say that the regular season is basically insignificant. Let's hope the Rams or Seahawks don't get a chance to suggest that the regular season is insignificant.


9.) The Chargers may not deserve it now, either

A funny thing happened on San Diego's way to the postseason Sunday. The Raiders went into Qualcomm Stadium and completed a season sweep of the Chargers. It was a September-esque performance from the Chargers: turnovers early and a few special teams gaffes (Darren Sproles muffed punt, Nate Kaeding missed 50-yard field goal…which probably isn't a GAFFE, per se, but whatever, it helps the storyline).

If you picked this game cor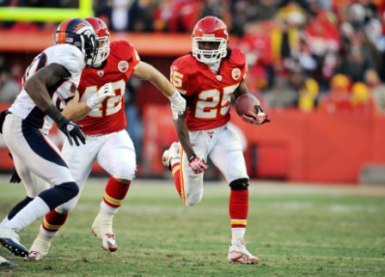 rectly, then congratulations, you know nothing about pro football. There's no way anyone could have intelligently predicted the Raiders to win going in. The evidence just wasn't there. Darren McFadden had rushed for 16 yards on 18 carries the previous two weeks. Facing the league's top-ranked defense, he gained 97 yards on19 carries. Backup Michael Bush added 95 on 23 carries. Oakland's unforeseeable rushing success was the difference Sunday.

For San Diego, the loss was their first in 18 December games. They're now 6-6 and two games back of a Chiefs team that they could have been battling for first place next week.

And say, how about those Chiefs? Three weeks removed from getting tagged for 49 points by the Broncos, Kansas City's defense holds Josh McDaniels' men to two field goals. Outside linebacker Tamba Hali renewed his ownership of normally-outstanding offensive tackle Ryan Clady. Unheralded corner Brandon Carr stifled the league's leading receiver, Brandon Lloyd. (Though he didn't shut Lloyd out the way Champ Bailey shutout Dwayne Bowe).

On the other side of the ball, Kansas City got more stellar play from Matt Cassel (he's now up to 23 touchdowns on the season and still has just four picks) and was able to lean on the explosiveness of Jamaal Charles (his 116 yards on 15 carries left him third in the NFL in total rushing on the season leaving Sunday). Worth noting is that a big reason Charles is averaging nearly 95 yards per game on the ground and 6.2 yards per carry (the all-time single season record is 6.4, held by Jim Brown) is because he often enjoys big-play springing edge blocks from wide receivers and tight ends. That fundamental excellence goes a long way towards creating a consistent attack.

We can't talk about this game without overhyping McDaniels-Todd Haley Handshake II. Haley surprised McDaniels by going in for a full hug after the game. It was the same tactic Bill Belichick pulled on Eric Mangini a few years ago. Annoyed by the media distraction that their icy relationship caused, Belichick used a warm hug to essentially douse cold water on a hot feud. It worked for him and it will probably work for Haley. No one will bring up his relationship with McDaniels again this season. And perhaps not next season, either, as McDaniels, now 5-17 in his last 22 games, may not be around.


10.) Quick Hits

**Falcons kick returner Eric Weems deserves heavy Pro Bowl consideration. His touchdown return against the Bucs was not only spectacular, it changed the tenor of the game. Lat week, Weems had a big return to set up Atlanta's game-winning drive against the Packers.
**The Bucs-Falcons game was a good one, too. Matt Ryan was his usual cool self late. Josh Freeman continued to flash star potential. And the Bucs as a whole, though once again coming up short against a plus-.500 team, proved that they're not a fluke. Tampa Bay has improved in the trenches on both sides of the ball.
**The early window games were slim pickings. It was the kind of schedule where I chose what game to watch on my main TV based on what uniforms I thought would look best on the field together. I picked Packers-Niners….only to discover that Green Bay was busting out some hideous blue and brown throwbacks.
**Would you believe that Jeff Fisher's Titans led the league in presnap penalties coming into Sunday?
**And would you believe that the Saints' stud right guard, Jahri Evans, leads the league with eight holding penalties?
**Didn't mention Knowshon Moreno in the Broncos-Chiefs write up above. The second-year running back had by far his best game as a pro (161 yards on 23 carries). His juke moves had the exaggerated effectiveness of the juke moves on the Madden video game from about six or seven years ago.
**I didn't like Drew Stanton's touchdown dance. I didn't like the dance itself (hope it's okay to say this: it wasn't a dance designed for white guys) and I didn't like that he even did it. Quarterbacks pump their fist or spike the ball out of raw emotion all the time (see Brady, Rodgers, Roethlisberger). But none of them dance. It's just not kosher – especially when you're a second-round bust who is serving as a third-stringer on a two-win team.
**Cameron Wake had a big sack on Jake Delhomme late in Miami's heartbreaking loss against Cleveland. Unfortunately for Wake and the Dolphins, the problem with sacking Delhomme is that it's the only way to ensure that he doesn't throw an interception.
**Going back to the Falcons-Bucs game real quick: hopefully for Brent Grimes people were watching this one, because if they were, the athletic and highly underrated Falcons cornerback probably punched his ticket to Hawaii.
**How's this for salt in the Cardinals fans' wound: Kurt Warner was in the broadcast booth for the St. Louis-Arizona game.
For more NFL news, rumors and analysis, follow @cbssportsnfl on Twitter and subscribe to our RSS Feed .