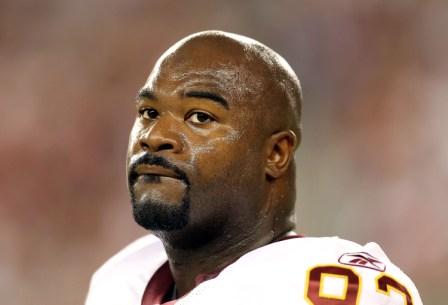 Posted by Josh Katzowitz
The
Redskins
have announced they've suspended troubled DT
Albert Haynesworth
for the final four games of the season.
Coach Mike Shanahan's statement:
"Despite the club's numerous attempts to persuade Albert Haynesworth to abide by the terms of his contract, he has repeatedly refused to cooperate with our coaching staff in a variety of ways over an extended period of time. Among other things, he has consistently indicated to our defensive coaches that he refuses to play in our base defense or on first-down or second-down nickel situations. He has also refused to follow the instructions of our coaches both during weekly practices and during actual games as well.

"Yesterday, when Albert was at Redskin Park, he told our General Manager Bruce Allen that he [Haynesworth] would no longer speak with me. Although suspending any player is not a decision that a head coach enters into lightly, I believe the situation has reached the point where the club clearly has no alternative."

UPDATED (1:08 p.m.):
The Haynesworth saga took a weird turn last week. Haynesworth missed practice last Friday after (apparently) he felt sick. The Redskins proceeded to deactivate him for Sunday's game vs. the
Giants
- the fourth time this season he hasn't played. The move surprised Haynesworth - and most likely, upset him (see above statement where Haynesworth tells GM Allen that Haynesworth would give Shanahan the silent treatment).
Then,
a media report
from Comcast SportsNet alleged he was out late last Thursday and hung over Friday - which is why he didn't practice (though, technically, I suppose this would qualify as "sick"). It's a rumor that Haynesworth angrily denied, saying "There are some kind of haters or something like that in the organization, that they don't like me. I don't know if it's players or coaches. I don't know who it is. Obviously, there's somebody who doesn't like me."
Maybe he should change that "somebody" to "everybody," because Haynesworth has torpedoed himself and his team every chance he could.
You can go back to June 15 when t
he headline of a post
I wrote was entitled simply (and beautifully), "Haynesworth wants out of Washington."
Since then, he missed OTA workouts, teammates called him selfish, he failed to pass his training camp conditioning test over and over and over again, had words with Shanahan, made up with Shanahan, had words with Shanahan, made up with Shanahan, bucked against playing the 3-4 base, agreed to try to play the 3-4, apparently suffered through a condition where muscle fiber contents could be released into his bloodstream causing kidney damage, missed the season-opener, day-dreamed about returning to play for the
Titans
, said he wasn't a slave for sale, tragically buried his brother after a motorcycle accident, literally laid down on the field and didn't get up to chase
Eagles
QB
Michael Vick
and just generally was a thorn in the side of Redskins management, coaches, teammates and fans.
And he also presumably cashed humongous checks, the likes of which you and I can't comprehend.
You know how Haynesworth said Monday that somebody in the organization clearly doesn't like him?
Maybe, just maybe, that somebody is Haynesworth.
For more NFL news, rumors and analysis, follow @cbssportsnfl on Twitter and subscribe to our RSS Feed .