Posted by Andy Benoit

So much focus has been placed on Josh McDaniels and his slew of seemingly misguided personnel moves (the revisionist historians' favorites are getting rid of Jay Cutler, Brandon Marshall, Peyton Hillis and drafting Tim Tebow). But the Denver Br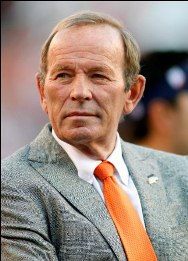 oncos' problems likely extend past the head coach.

No one is talking about the competence of owner Pat Bowlen. But look back on a piece Rick Reilly, a well-connected national columnist and Denver-area resident, wrote in August 2009:

The Denver Broncos' Pat Bowlen used to be one of the cleverest owners in sports. But now he's being undercut by an insidious opponent -- himself.

Bowlen, 65, admitted recently that he has "short-term memory loss." There are whole parts of the Broncos' Super Bowl seasons he says he can't recall.

Bowlen still insists Jay Cutler never called him back during McJay Gate this winter, which left him "no choice" but to trade a dead-lock Pro Bowl 26-year-old quarterback for Kyle Orton and draft choices.

But I've now got it from three different sources -- who choose to remain unidentified -- that Cutler did call Bowlen back.
"Jay called him twice," said one source. "It's unbelievable it came to this."

Is it possible Bowlen forgot?

I found Reilly's article by googling "Pat Bowlen dementia." I googled "Pat Bowlen dementia" because last year a prominent NFL insider told me Bowlen had it. What got me thinking about this again was the confusion surrounding the McDaniels firing (Bowlen said in an interview with Thomas George of Fan House that McDaniels' job was safe, then essentially took it back in a public statement released not long after that).

Let it be clear: I have never met Pat Bowlen and I am not connected to anyone close to him. In that August '09 column, Reilly said that "more of the final decisions (in the Broncos organization) have come down to Chief Operating Officer Joe Ellis, a cousin of George W. Bush, who is not a football guy."

Regardless of Bowlen's state, it's inarguable that his team is a mess right now. The Broncos have no strong front office leader (McDaniels had final say over personnel), no head coach, a long-term franchise quarterback that half the coaches in the league presumably think can't play and a five-year playoff drought that is at least seven or eight new defensive players away from ending.

For more NFL news, rumors and analysis, follow @cbssportsnfl on Twitter and subscribe to our RSS Feed .