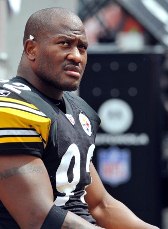 Posted by Josh Katzowitz
For once,
Steelers
LB
James Harrison
is playing the victim card, and he might have a point.
As the
Pittsburgh Post Gazette
writes, his teammates think
Ravens
G
Chris Chester
– a guy not known as an especially dirty player – tried to cheap-shot Harrison during last Sunday's Baltimore win.
During an extra point attempt, the Ravens were flagged for a false start, but Chester fired on Harrison anyway, leading to both teams pushing and shoving each other (Harrison wisely backed away from the tussle).
From the story:
"
Of course it was deliberate," Harrison said today in the Steelers locker room. "There's no way that happens on an extra point because [offensive linemen] don't shoot out. It's obvious it was blatant. It was on purpose."

Asked if it was a cheap shot, Harrison said, "Yeah it's cheap, but when it comes down to it, it's only a 5-yard penalty, they move back to the 7 and re-kick. It's not going to hurt them."

"It was a dirty play," said inside linebacker James Farrior.

Chester might have been upset, because Harrison ran him over earlier in the game. though it sounds like the Steelers think this was planned-out on the Ravens side. After the near brouhaha, Harrison said he later ran over Chester again.
One interesting part of this equation is the fundamentals involved. Offensive lineman are taught not to fire out on extra points and field goals, because it leaves gaps in the blocking wall that could allow a defender to sneak through and block the kick.
So, maybe Chester forgot that he wasn't supposed to do that. Or he wanted to teach Harrison a lesson. Or he's got a nasty twitch.
For more NFL news, rumors and analysis, follow @cbssportsnfl on Twitter and subscribe to our RSS Feed .