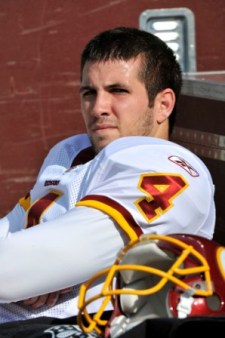 Posted by Josh Katzowitz
For a guy who's walking a tightrope on whether he gets to keep his job,
Redskins
K
Graham Gano
sure is anxious to correct some of his biggest transgressions.
After returning home following Washington's 17-16 loss to the
Buccaneers
– based partly on (gulp) two missed Gano field goals (34 and 24 yards) and a flubbed last-second PAT (that wasn't Gano's fault, for what it's worth) – Gano returned to Redskins Park later Sunday night to watch tape.
"There was nobody here," Gano said, according to
CSN Washington.
"I came in here to figure out what I did wrong. I watched film from the beginning of the season when I was hitting the ball well and compared it to (the Bucs game)."
So, did he arrive at an answer?
"It was really hard to break it down and go into detail because my form looked the same as when I was making all my kicks," Gano said. "I think it came down to my plant foot being a little too far behind the ball."
Further hurting Gano's cause to keep his job – he's 22 of 32 this season, and his 10 missed field goals leads the league.
And, according to the
Redskins official site,
Gano hurt his ribs Sunday in the mad dash after the unsuccessful PAT at the end of the game, and it looks like the club will work out some kickers this week in case Gano can't play.
And if he's healthy? Coach Mike Shanahan said Gano will continue to be the guy he'll send out to kick field goals.
For more NFL news, rumors and analysis, follow @cbssportsnfl on Twitter and subscribe to our RSS Feed .