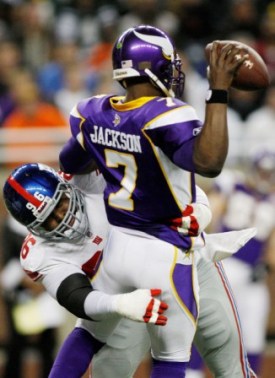 Posted by Josh Katzowitz
The
Tarvaris Jackson
era got a reboot tonight when
Brett Favre
's shoulder didn't allow him to continue his streak of 297-straight starts.
Conventional wisdom says the
Vikings
– and interim and maybe future head coach Leslie Frazier – have the opportunity to see what Jackson can accomplish as the starter.
Well, to see if he can improve on his performances the last time he started for Minnesota – from 2006-08, he started 19 games and went 10-9, and for most of his career, he's been an average quarterback. Maybe slightly better than average.
Obviously, with the way Favre played last season, the Vikings felt like they had to ride him as long as they could. But now that Favre is out – probably for the season and his career – Jackson gets another look-see.
If tonight is any indication, the Vikings – who took a 21-3 pounding from the
Giants
in Detroit – need to go in another direction.
The Vikings offense was absolutely brutal. RB
Adrian Peterson
had 14 carries for 26 measly yards. After a quality first quarter from WR
Sidney Rice
, he disappeared for the rest of the game. And then there was Jackson.
Before I show you the statistics, know this: the Detroit fan base, who spent minutes of its time doing the Wave and who were passionless for either squad, chanted for backup
Joe Webb
to replace Jackson. Face it, the rookie sixth-round pick couldn't have done much worse.
Look at the numbers put up by Jackson: 15 for 30 for 118 yards and an interception. What does that tell you?
Late in the first quarter, Jackson took the snap and attempted to hand off to Peterson. The two instead banged knees, and a few minutes later, both hobbled off the field. In reality, there wasn't much reason for Jackson to return. Even with a shoulder that didn't allow Favre to throw, perhaps Favre would have been the better choice to start the game anyway.
Because at this point, if you compare the Jackson of tonight to the Jackson of two years ago, he hasn't improved. In fact, he's regressed.
For more NFL news, rumors and analysis, follow @cbssportsnfl on Twitter and subscribe to our RSS Feed .