Posted by Andy Benoit

More from the headline-grabbing news out of DC Friday. Chris Russell of ESPN 980 reports that Donovan McNabb and Rex Grossman were informed of the quarterback change in Washington earlier this week, and that both were told not to say anything. Shanahan claims he told McNabb about the move Thursday. Oh, Shanahan also mentioned that Rex Grossman will start for the remai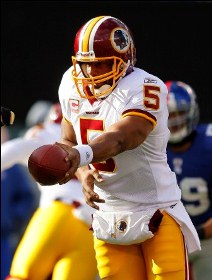 nder of the season, and that John Beck will be the No. 2. This means McNabb will not be part of the 45-man roster for the last three games, which, according to Grant Paulsen of ESPN 980, means the Redskins won't have to pay him $93,000 in bonuses.

The Redskins probably wouldn't mind McNabb's agent, Fletcher Smith, keeping as mum like his top client. But that's a no go. Smith lashed out at the organization Friday. "Disrespectful is probably not strong enough of a word," Smith told Jason Reid of the Washington Post. "Donovan has handled himself with nothing but class, not just in Washington but as an ambassador for the league. To treat him this way ... it's beyond disrespectful."

Smith has been disenchanted with the Redskins organization throughout most of this tumultuous season.

"I almost don't even know where to begin, but it really started with Detroit and it was just wrong the way Donovan was treated," Smith said. "Just the way Mike handled the whole situation in Detroit, and in almost every instance since that time, and this is, I guess, the culmination of that. I think it's ... again, it's beyond disrespectful."

Smith, of course, negotiated McNabb's new contract with the team back in November. Word is a big part of McNabb's inspiration to sign the deal was how much he enjoyed living in Washington. He'll likely have to reconsider that now.

Smith was asked what McNabb's future holds. "Without talking to him, I can't answer that question at this time," he said. "Obviously, we're going to have to sit down and digest the season at season's end. And we will, in due time, come to a decision.

"But at the end of the day, he has to live there [in Washington], he has to play there. And the decision, at the end of the day, is ultimately his. I can't answer that question on his behalf. But from my standpoint, I'm certainly not happy with what has transpired. If that is his decision, we're absolutely not happy with Mike's treatment or handling of Donovan. In this situation and in a lot of situations this season."

For more NFL news, rumors and analysis, follow @cbssportsnfl on Twitter and subscribe to our RSS Feed.