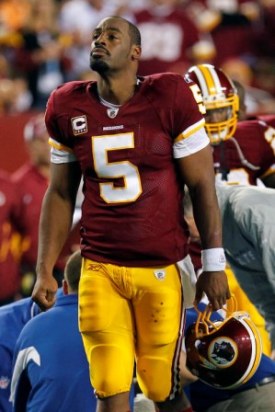 Posted by Josh Katzowitz
In an effort to ensure that the rest of your night isn't taken up by my posting
Donovan McNabb
story after Donovan McNabb story, let me make this post a McNabb notebook of sorts.
Three stories combined into a McNabb-sized post. After all, how else would you want us to treat
a third-string QB?
1.
Anybody want to know
McNabb's thoughts
about
Rex Grossman
starting instead of him this Sunday?
As reported by the
Washington Post,
McNabb released a statement through his publicist, saying, "I respect Mike (Shanahan)'s decision as a head coach, but I strongly disagree with it."
Look, say what you will about McNabb's quarterbacking skills, but he certainly has acted with class during what has become an awfully difficult season.
2.
Anybody want to know what Grossman thinks about this idea?
According to
TBD.com,
he's looking forward to the chance to reinvigorate his career.
"I think everybody has doubters in any situation, and until you prove yourself (on a) consistent basis, you're always going to have doubters. I don't care what profession you're in. It's motivation," Grossman said. "I'm human. How could you not be motivated to show everybody who's mocking you, or talking on the radio or TV, thinking they're smart? I'm totally motivated to prove to them, and to myself that I'm a bona-fide starter in this league and can lead this team to a championship one day. Those are the type of goals I have, so motivation's not a factor."
Grossman has made 31 starts in his career, going 19-12, and in the 16-game season he started with the
Bears
in 2006, the team went 13-3 and he completed 54.6 percent of his passes for 3,193 yards, 23 TDs and 20 INTs – numbers that, looking back on it, aren't completely terrible.
And apparently at least one of his teammates has confidence in Grossman.
"There's not going to be a feeling out process. Rex is totally confident in the gameplan and what guys are going to do," tight end
Chris Cooley
said, via TBD. "He's been around everyone, he's seen how they run their routes all year. It's not like we're playing a quarterback we brought in last week. I care a lot about this team, but I'm not going to be divided. I'm going to be indifferent to the decisions that were made. Because I trust our coach, I believe he's doing what he feels is best for this team and trust that as much as possible."
3.
So, where does McNabb land after this year? If you think Arizona, well,
Arizona Republic
reporter Kent Somers will disagree with you.
Somers writes that, even though McNabb lives and trains near the
Cardinals
complex, his sources have told him during the past few years that the Cardinals have never made a play for him.
Writes Somers:

Do the Cardinals pursue him? I would be surprised.

McNabb has never played in this offensive system. There are allegations that he's not the hardest working guy in the business. He has no ties to this coaching staff, which doesn't seem to hold him in as high a regard as some fans.

Maybe the Cardinals will show interest this time. They will look to bring in a veteran quarterback next season, and they will be tempted to draft one with their first selection. Maybe McNabb would be a nice bridge to the future. But again, I doubt it happens.
For more NFL news, rumors and analysis, follow @cbssportsnfl on Twitter and subscribe to our RSS Feed .