Posted by Andy Benoit

1.) Miracle at the New Meadowlands

The Miracle at the Meadowlands – Herman Edwards' last second fumble recovery and score in the Eagles' stunning 1978 win at New York – will never be forgotten. But at the end of the day, that legendary sequence was more a consequence of Joe Pisarcik and Larry Csonka's sloppiness than it was a great play.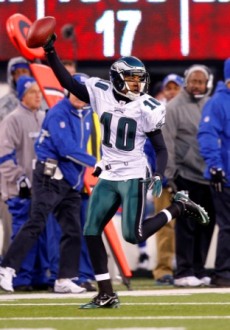 The Miracle at the New Meadowlands was more about the brilliance of DeSean Jackson. There isn't a more electrifying player in football than the third-year receiver from Cal. Jackson is what the Chicago Bears were hoping to get when they made Devin Hester a wide receiver; no player is as lethal on both offense and special teams. Not only does Jackson have long-striding speed and uncanny change-of-direction, but, as he showed after initially fumbling Matt Dodge's line drive punt, he has t he acceleration of a Porsche.

Of course, after seeing the phrase "Matt Dodge's line drive punt", it's hard to argue that sloppy play did not factor into the Miracle at the New Meadowlands, as well. During Jackson's return, right before he alertly – though albeit unnecessarily – ran out the clock by running along the goal-line before taking it in, you could see Tom Coughlin throw his notepad to the ground in disgust. Coughlin then immediately ran onto the field and got in Dodge's face.

But Coughlin should have been getting in GM Jerry Reese's face. The bottom line question is, Why is Dodge even on the team? Yes, it's easy for a sportswriter to look at the results and throw a punter – or, as Coughlin reminded everyone in the postgame press conference, a "young punter" –under the bus after an epically disastrous play, but anyone who has followed the Giants this season knows that Dodge's lack of poise, hangtime and directional-ability have been major issues.

In fact, right before the punt, Troy Aikman commented about how Coughlin told the FOX production staff before the game that Dodge is not at a point in his career where you can ask him to kick a ball directionally. Wait a minute. Directional kicking…that IS punting. A punter who can't kick directionally is the same as a quarterback who can't throw or a shooting guard who can't dribble or a striker who take a dive and fake an injury. If Dodge can't handle directional kicking, he shouldn't be in the NFL. The Giants have been learning that lesson the hard way this season – none harder than Sunday night.


2.) The buried stories

Whenever there's a discussion about where the ending of a game ranks among all-time endings, the other storylines from that game inevitably get buried. We can't let that happen with this Giants-Eagles classic. There are two storylines that HAVE to be examined.

First, the amazing Michael Vick. His fourth quarter alone chopped the defensive playbooks of Philly's remaining 2010 opponents in half, as no team is going to risk playing man coverage against him again this season. With Giant defenders often turning their backs to the line of scrimmage and running downfield with the speedy Eagle wideouts, Vick was able to exploit rushing lanes that at times looked wider than the Jersey Turnpike. Vick, who finished with 130 yards on 10 carries, also created plenty of lanes himself. The Giants front seven swarmed the Eagles early on, but as the Giant pass-rush grew tired and the Eagles, trailing by 21 midway through the fourth, grew desperate, Vick was able to fall back on his instincts. What made him unstoppable in the fourth was that those instincts still involve keeping his eyes downfield and hitting the open receiver. That wasn't the case four years ago. Vick killed the Giants with his legs Sunday, but his legs were deadlier because the Giants had to worry about his arm (and for good reason: Vick threw for 242 yards and three touchdowns).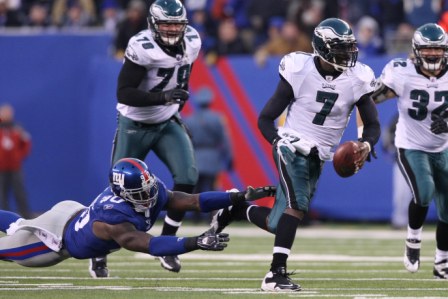 The other story from this game: Andy Reid. Can you imagine the maelstrom of criticism Reid would face back in Philly this week if the Eagles had lost this game? He'll still probably face the criticism – and deservedly so.

In the first half, backed up on their own 18 and with less than 30 seconds to play, Reid allowed his team to throw. Jeremy Maclin caught a quick slant but promptly fumbled, giving the Giants possession at the eight-yard line. It was the exact scenario that inspires most coaches to take a knee or run the ball in that situation. Even more bizarre than the awful decision to throw was that, just one play earlier, Philadelphia had run the ball in what appeared to be an effort to drain the clock.

It took New York one eight-yard pass to convert their golden opportunity into a touchdown and 24-3 lead (Hakeem Nicks beat cornerback Dimitri Patterson; Patterson had a nightmarish game that, unfortunately, will prevent most casual fans from recognizing that the fifth-year veteran has been stellar if not spectacular since becoming a starter for the first time last month).

Reid's second blunder was not challenging the DeSean Jackson fumble early in the fourth quarter. Reid has always been one to roll the dice with his challenges – sometimes even when the odds of success are about as good as the odds of rolling snake eyes – but for whatever reason, he kept the red flag firmly in his grasp after that play, almost as if that particular flag was a personal keepsake item. FOX's 47th replay of the Jackson fumble (and 17th replay in super slow motion, which everybody loves) confirmed what the first replay had shown: Reid should have challenged.


3.) The other New York-Pennsylvania showdown

Imagine how heartbroken the Big Apple would be had Ben Roethlisberger's final two passes not been incomplete Sunday evening. The Steelers, trailing the Jets 22-17, had two chances to sling the ball into the end zone for a late fourth quarter win, but New York's D finally regained its stifling nature at the most critical juncture.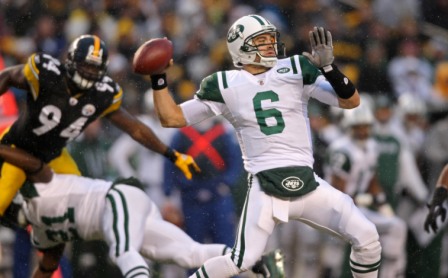 A win on the road against an AFC power halts all the worry about Rex Ryan's club. This was a game that, aside from Brad Smith's opening kickoff return touchdown return, was devoid of big plays. There were no turnovers or explosive completions. Rather, it was two teams fistfighting in snow flurries for 60 minutes (or, since we're not counting Smith's touchdown, 59 minutes and 48 seconds.)

Offensive coordinator Brian Schottenheimer protected Mark Sanchez with more bubble screens and quick-strike play-calls, and in turn, Sanchez responded with a solid 19/29, 170-yard performance. Crafty play-calling – like the fake handoff-Sanchez bootleg on fourth-and-goal late in the third, or the direct snap to LaDainian Tomlinson on third-and-six midway through the fourth – also helped the offense regain its rhythm.

A big part of the Jets rhythm, of course, is running the ball. They became the second team in 47 games to top the century mark against a Steelers run defense that has allowed an historic 63.4 yards per game this season. The absence of strong safety Troy Polamalu was certainly a factor. The Steelers give up roughly 1.5 yards more per carry when their superstar is out of the lineup. They also force an average of one fewer turnovers per game and surrender an extra 10 points. Overall, Pittsburgh has now lost seven of its last 12 without Polamalu.


4.) Told you so

The last two weeks we've talked about how there's no reason to worry in Indy. Well…see? "Colts 34, Jaguars 2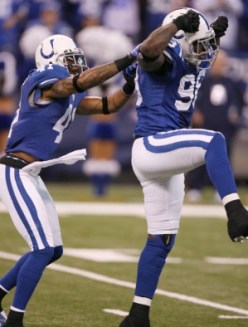 4" is not a super accurate portrayal of the action from Sunday's game at Lucas Oil Field. If not for Mike Thomas's conniving fake fair catch punt return for a score in the second quarter, this game probably would have ended up a blowout. (Can't blame Thomas for being conniving on that play – if you can get away with it, then hey, by all means. Of course, the football gods didn't seem amused. A little later in the game, Thomas botched a punt in which Indy's new special teams playmaker Taj Smith ran into him before he could secure a fair catch. Thomas fumbled and the Colts recovered. However, the officials correctly ruled that Jacksonville cornerback Derek Cox had blocked Smith into Thomas. Thus, the fumble stood and the Colts got possession.)

Peyton Manning was surgical for a second consecutive game. He hit 29/39 for229 yards and two scores. His favorite target in the first half was Austin Collie, who caught eight balls for 87 yards and two touchdowns in his first game back after missing five weeks with a concussion. That Collie, a bourgeoning slot receiver, left in the third quarter after sustaining another terrifying concussion (he was knocked out going low for a ball over the middle – just like on the Week 9 play against the Eagles) is, at best, unfortunate and at worst, tragic. Only time will tell on Collie's football future.

The Collie injury was the only true blemish on the afternoon for the Colts. The defense was simply too fast for the Jaguar offense. Maurice Jones-Drew was held to 46 yards rushing. David Garrard got hot for a series or two in the third quarter but had a costly interception to Antoine Bethea on an overthrown deep ball. Dwight Freeney may have turned in the most dominating zero-sack, zero-tackle performance in NFL history. And, on the other side of the ball, Donald Brown capitalized on gaping holes in the Jaguar defense, registering runs of 43 and 49 yards (a career high for Brown and season-high for the Colts).

Indianapolis is now 8-6 and still in control of its own destiny. Standing between them and a ninth consecutive postseason appearance are the 7-7 Raiders and 6-8 Titans.




5.) The Chosen One finally starts

As a contributor to a mainstream media outlet, I am required by law to preface all Tim Tebow stories with t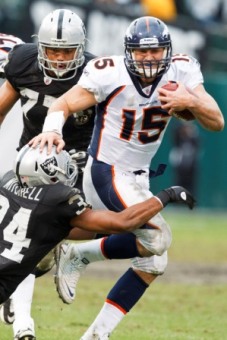 he following message:

Tim Tebow is a leader. He is special. He's a warrior who loves to compete. He is young but already respected by teammates. He works hard and fights hard and loves the game. Coaches love him. But not as much as he loves them back. He is a high-character, team-first guy. And he's not a quarterback…he's a football player who happens to play quarterback. What a perfect human being.

So how was the miracle-working rookie in his first NFL start? Actually, not bad. Yes, the Broncos lost. But that was only because they gave up 264 yards on the ground (201 in the first half). Tebow himself was solid. In fact, he was solid enough for offensive coordinator Mike McCoy to be second-guessed: why didn't McCoy let the rookie throw more? Tebow attempted just 16 passes, completing eight of them. The lefty showed surprising zip on the ball, particularly outside the numbers. And he exhibited fluid athleticism. Best of all was that there were no glaring glitches in his mechanics.

The conservativeness of Denver's gameplan was best illustrated in the four quarterback draws that were called on third and long. Teams never call a quarterback draw on third-and-plus-five. Perhaps there were so many draws called because Tebow took a third-and-24 to the house for a 40-yard touchdown early on. The ex-Florida Gator is no Mike Vick, but it looks like his running ability will transfer well enough to the pro level after all.

There was one play in particular that ought to make Bronco fans optimistic about the future: on second and 11 at the Oakland 33, Tebow dropped back and lofted a deep floater to the back right corner of the end zone. The ball should have been picked off by either Stanford Routt or Michael Huff, but instead, it dropped into the arms of Brandon Lloyd, who was laying on the ground, barely inbounds. In short, the touchdown was a miracle sent from Heaven. (Or, at least it was a miracle once the officials reviewed it and reversed their initial ruling of incomplete pass.)


6.) The other ex-Gator who started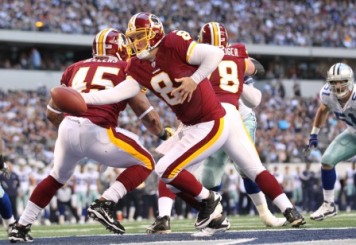 We could fill an entire week's worth of Football Podcasts talking about the appropriateness of benching Donovan McNabb and then parading him out to midfield as a captain for the opening coin toss. At best, it was an awkward situation. Perhaps it was just a paperwork error. Can't you just imagine Mike Shanahan seeing his captains walk to midfield and turning pale upon the realization that he forgot to have his secretary replace the McNabb file with the Cooley file (figure Cooley would be Washington's new offensive captain, considering center Casey Rabach is too mediocre to wear the badge, Santana Moss is too self-centered and Rex Grossman is too Rex Grossmany).

The coin toss was the extent of McNabb's on-field contributions – the rest of the day belonged to Grossman. Because seven previous years of creative turnovers, injuries and mental mistakes aren't enough for the Redskins brass to gauge whether a player can be the long-term solution for their club, Sunday's game was an audition for Grossman. He tied his career high with four touchdowns, but he also had three of his patented turnovers, including the one to Terence Newman that secured a loss in the final minute.

There was a stretch in the mid-to-late second half where Grossman was in command and digging his team all the way out of a 16-point hole, but too often when checking in on this game, viewers saw a quarterback jogging off the field looking unnervingly sheepish. But hey, no one is questioning the man's cardio vascular endurance.


7.) Chiefs show something in Show Me State showdown

Okay, so Week 15 only confirmed that the NFC West would probably have trouble even sending one of its current four teams to a BCS bowl this year. The Seahawks benched quarterback Matt Hasselbeck in the second half of their 34-18 loss to the Falcons. (By the way, kudos to Atlanta for going cross-country to get their third straight road win.) The 49ers almost benched their quarterback in a 37-7 loss to the Chargers Thursday night. And the Cardinals wound up goi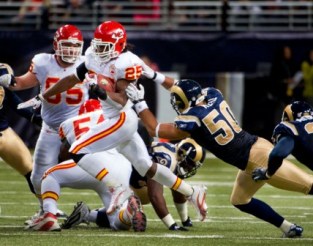 ng with their third-string quarterback, John Skelton, in their 19-12 loss to the previously 1-12 Panthers.

So maybe it's not all that impressive that the Chiefs went into St. Louis and beat the "least awful" team of the NFC West 27-13. Except that it IS impressive. Matt Cassel played just 10 days after having his appendix removed. No longer carrying around that extra weight, Cassel seemed even more eager to run. He scrambled six times for 17 yards, showing no fear of contact whatsoever. The 17 yards left Cassel with 109 fewer yards than Jamaal Charles, who upped his yards-per-carry average to 6.4 on the season. That 6.4 would tie him with Jim Brown for the all-time single season record. Charles battled cramps throughout much of the afternoon. Fortunately, he's only one of the heads in this monster backfield; Thomas Jones gained 62 yards on 22 carries.

More impressive than the Chief offense was the Chief defense. It gave up two long drives to open the game, though both ended in field goals. The rest of the day, rising young cornerbacks Brandon Flowers and Brandon Carr stifled the Ram receivers. End Wallace Gilberry dominated in passing situations, recording three sacks and two hits on the quarterback. The stats don't show it, but Tamba Hali played up to his Pro Bowl standard (too bad voters don't see Chiefs games as often as they see Steelers games; the fifth-year pro is unlikely to beat out James Harrison or LaMarr Woodley).

This was virtually a must-win for the Chiefs. A loss would have dropped them to 8-6 and behind San Diego in the AFC West. The Chargers would have then had to beat Cincinnati and Denver to clinch the division title. As for the Rams, the loss keeps them in a first-place tie with their Week 17 opponent, Seattle. The loss also means that the 49ers are now the first team in NFL history to have a 5-9 record and still control its own playoff destiny. The NFC West: it'd be funny if it weren't so pathetic.


8.) Quick Hits

**Cris Collinsworth summed it up best: it took 59 minutes, but Matt Flynn's inexperience finally reared its ugly head Sunday night.
**The loss in Foxboro wasn't all bad for the Packers, as they still control their own destiny. A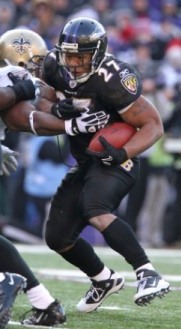 win at home against the Giants next week puts them in the wild card driver's seat. A byproduct of Flynn starting was that Green Bay was forced to conjure up a rushing attack. John Kuhn and Brandon Jackson were stellar, thanks in large part to a powerful front five.
**The FOX production team for the Falcons-Seahawks game passed along a statistical gem: as of halftime of Sunday's contest, Matt Ryan has been blitzed 195 times, which is second most in the NFL. Against the blitzed, he's been sacked five times, which is fewest in the NFL.
**Terrell Owens is out for the season after tearing his meniscus. According to Pro Football Talk, the Bengals seriously considered deactivating Owens for the final three games. They're sick of his attitude. Owens won't be in Cincy next year. Considering how things are ending there and how no other team wanted the guy when he was a free agent this past offseason, it's possible that Sunday was the last game of Owens' career.

**Randy Moss didn't catch a pass (again), but he had an excellent block on Chris Johnson's 11-yard touchdown run in the first half of Tennessee's win over the team that I'm guessing Bill Cowher will coach in 2011.
**Have to admit, I didn't get a chance to see the Lions-Bucs game (the NFL, for some reason, slotted 10 games in the early window and only three in the late window, making it impossible to keep up with every bit of the early action). Without yet reviewing the stories and stats, my guess is all the injuries are catching up to the young Bucs.
**It came in a losing effort, but linebacker Daryl Smith was all over the field for Jacksonville Sunday.
**The Ravens will be a tough out if the Ray Rice from Sunday continues to show up. The third-year pro has been somewhat of a disappointment this season, pressing too hard in an effort to live up to astronomical preseason expectations. Rice relaxed against the Saints, though, 153 yards rushing and another 80 through the air.


9.) My Pro Bowl ballot, offense

For some reason, the NFL ends Pro Bowl voting two weeks before the season itself ends. So, I was compelled to cast my Pro Bowl ballot before the December 20 deadline (voting closes at the conclusion of the Chicago-Minnesota game).
Below is my ballot, with explanations for players that I'm anticipating you might complain about.
*starter
Quarterback
AFC
Tom Brady, Patriots *
Peyton Manning; Colts
Philip Rivers, Chargers
NFC
Michael Vick, Eagles *
Drew Brees, Saints
Aaron Rodgers, Packers

Running Back
AFC
Maurice Jones-Drew, Jaguars *
Arian Foster, Texans
Jamaal Charles, Chiefs
If the Jags make the playoffs, MJD deserves serious MVP consideration. In addition to nearly 100 yards per game rushing, he's arguably the league's best all-around back in passing situations.)
NFC
Michael Turner, Falcons *
Adrian Peterson, Vikings
LeSean McCoy, Eagles
Would love to go with Steven Jackson, but McCoy's drastic improvements as a pass-blocker and receiver are too hard to overlook.
Fullback
AFC
Greg Jones, Jaguars *
NFC
Ovie Mughelli, Falcons *
Wide Receiver
AFC
Andre Johnson, Texans *
Brandon Lloyd, Broncos *
Reggie Wayne, Colts
Dwayne Bowe, Chiefs
T.O.'s numbers are too largely a product of coverage floated towards Chad Ochocinco. Santonio Holmes didn't play quite enough games. Wayne has better numbers than Lloyd, but Lloyd was the tougher cover for defenders this season.
NFC
Roddy White, Falcons *
DeSean Jackson, Eagles *
Greg Jennings, Packers
Calvin Johnson, Lions
The Saints spread the ball around too much for me to choose Marques Colston over these other bona fide No. 1 receivers.
Tight End
AFC
Antonio Gates, Chargers *
Tony Moeaki, Chiefs
The rookie Moeaki is already one of the best all-around blockers in the NFL. That said, I wouldn't put up much of a fight if you argued that Jacksonville's Marcedes Lewis deserves the nod here.
NFC
Chris Cooley, Redskins *
Tony Gonzalez, Falcons
Jason Witten is a warrior, but Cooley made more catches in critical situations. Gonzalez's blocking has been crucial to Atlanta's power run game.
Offensive Tackle
AFC
Matt Light, Patriots *
Joe Thomas, Browns *
Michael Roos, Titans
D'Brickashaw Ferguson is a tad too inconsistent as a power blocker. Too many times this season Ryan Clady hasn't looked like himself. Marcus McNeil held out the first half of the year.
NFC
Chad Clifton, Packers *
Jason Peters, Eagles *
Rodger Saffold, Rams
Guard
AFC
Ryan Lilja, Chiefs *
Kris Dielman, Chargers *
Ben Grubbs, Ravens
NFC
Carl Nicks, Saints *
Todd Herremans, Eagles *
Chris Snee, Giants
Jahri Evans has been unusually mistake-prone this season. It doesn't help that this is a great year for NFC guards. Davin Joseph deserves consideration, and I wouldn't say Steve Hutchinson isn't still viable.
Center
AFC
Nick Mangold, Jets *
Maurkice Pouncey, Steelers
NFC
Olin Kreutz, Bears *
Scott Wells, Packers
Shaun O'Hara is actually the leading vote-getter here, but he's played barely one-fourth of New York's games this season. This doesn't mean that fans tend to be bias with their votes, does it?



10.) My Pro Bowl ballot, defense

Defensive End
AFC
Dwight Freeney, Colts *
Robert Mathis, Colts *
Jason Babin, Titans
Injuries hindered Mario Williams too much this season. The NFL Pro Bowl ballot lists Jets DE Shaun Ellis as a DT (which will probably cost him a trip to Hawaii).
NFC
Trent Cole, Eagles *
Justin Tuck, Giants *
Julius Peppers, Bears
Peppers hasn't posted a ton of sacks, but the attention he's drawn week in and week out is what has allowed the Bears defense to recapture its swagger. If you consider run defense and operating within the confines of a defensive scheme, Cole and Tuck are the two best all-around ends in the NFC.
Defensive Tackle
AFC
Haloti Ngata, Ravens *
Vince Wilfork, Patriots *
Richard Seymour, Raiders
NFC
Ndamukong Suh, Lions *
Jonathan Babineaux, Falcons *
Fred Robbins, Rams
Kevin Williams was unusually quiet for most of the first 10 weeks or so. Same goes for Jay Ratliff.
Outside Linebacker
AFC
Tamba Hali, Chiefs *
Cameron Wake, Dolphins *
Shaun Phillips, Chargers
I've been dreading this one for weeks because I figured at least one Steeler would get left off. Then I discovered that it's not four OLB's on the Pro Bowl ballot – it's three. Ouch. No Terrell Suggs. No James Harrison. No LaMarr Woodley. All three are legitimate Defensive Player of the Year candidates. But so are the three guys listed above. Take any of the six, you can't go wrong.
NFC
Lance Briggs, Bears *
Clay Matthews, Packers *
Brian Orakpo, Redskins
Inside Linebacker
AFC
Lawrence Timmons, Steelers *
Ray Lewis, Ravens
Jerod Mayo deserves Pro Bowl honors, but the Patriots D is just a little too far behind the Ravens' D. And there's no arguing against Timmons. Another name to remember here: Stephen Cooper. His high presnap IQ and ability to take on blocks makes him key to San Diego's top five run defense.
NFC
Brian Urlacher, Bears *
James Laurinaitis, Rams
Is it me or has Patrick Willis been unusually quiet down the stretch? Would love to go with Stewart Bradley, as well, but Laurinaitis does too much in coverage.
Cornerback
AFC
Darrelle Revis, Jets *
Nnamdi Asomugha, Raiders *
Devin McCourty, Patriots
Brandon Flowers, Ike Taylor and Champ Bailey have been excellent, but these other three guys have been the lynchpins to their respective defenses.
NFC
Brent Grimes, Falcons *
Asante Samuel, Eagles *
Tramon Williams, Packers
DeAngelo Hall will likely get in because he's a big market player with a lot of interceptions. But the truth is, teams are way, WAY too eager to throw at Hall. Charles Woodson is a great joker weapon, but Williams has been the best pure cover artist in Green Bay this season. If you argue for Aqib Talib, I won't necessarily disagree.
Strong Safety
AFC
Troy Polamalu, Steelers *
NFC
Roman Harper, Saints *
Question for the NFL: why is there only one strong safety and free safety on the Pro Bowl roster? And question for all of you: why do you love LaRon Landry so much? He's the centerfielder for a pass defense that ranked dead last in the NFC with him in the lineup. Harper is the key to a lot of the confusion Gregg Williams' scheme creates.
Free Safety
AFC
Antoine Bethea, Colts *
NFC
Antrel Rolle, Giants *
Ed Reed is the best, but he missed the first six games. Bethea is the one constant in Indy's perpetually banged up secondary.
Kicker
AFC
Rob Bironas, Titans
NFC
David Akers, Eagles
The Dolphins call on Carpenter a lot, but Bironas has been perfect from 40-plus yards this season. Plus Carpenter missed four field goals in Miami's Week 15 loss against Buffalo.
Punter
AFC
Reggie Hodges, Browns
NFC
Donnie Jones, Rams
Return Specialist
AFC
Marc Mariani, Titans
Brad Smith is better returning kicks, but Mariani handles kicks AND punts.
NFC
Devin Hester, Bears
Leon Washington has the best numbers in the NFC, but no one alters field position like Hester.
Special Teamer
AFC
Eric Smith, Jets
NFC
Dmitri Patterson, Eagles
For more NFL news, rumors and analysis, follow @cbssportsnfl on Twitter and subscribe to our RSS Feed .