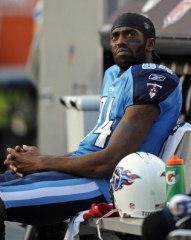 Posted by Josh Katzowitz
Can anybody have predicted that WR
Randy Moss
would have had this severe a downfall this quickly?
For the second-straight game,
Titans
QB
Kerry Collins
didn't target Moss at all (Collins attempted 24 passes, for the record), and Moss is testing out unprecedented water in his career (when he's not even an afterthought in the offensive gameplan).
Moss has been invisible, and though he probably won't, he has to question his future in the league. Even so, Titans coach Jeff Fisher seems genuinely happy with Moss' contributions to the team (five catches for 62 yards and zero touchdowns in six games).
"It was not a mistake whatsoever (to sign Moss)," Fisher told reporters, including the
Tennessean.
"If we had to do it over, of course we would do it. He has been great. Randy has been great for this team. The numbers aren't there, the production is not there, the play time is not there right now because Kenny (Britt) is coming back.
"But Randy is a great teammate. He works with the young guys and has fun, so it is great to have him around. We have really enjoyed him.''
And to his credit, Moss hasn't said anything inflammatory about his diminished on-field role with Tennessee, and he's (gasp!) actually talking to the local media.
Perhaps it's because he knows his career hangs in the balance. If he pops off, bitching and moaning, his chances of playing next year decline. If he stays quiet, remains a good teammate, becomes a mentor of sorts, he might have a better opportunity next season, because Fisher will give him a good recommendation and because the words "more mature now" will be bandied about.
He still has skills, and somebody most likely will sign him for (relatively) cheap with richer incentives.
Hey, it worked for
Terrell Owens
, anyway.
For more NFL news, rumors and analysis, follow @cbssportsnfl on Twitter and subscribe to our RSS Feed .