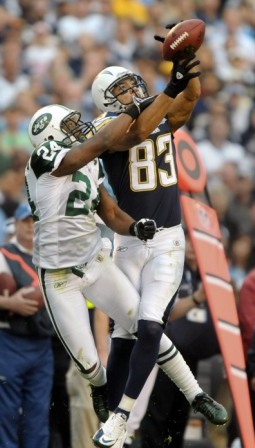 Posted by Josh Katzowitz
Even after his spectacular performance last week in the
Chargers
win against the
49ers
– WR
Vincent Jackson
recorded five catches for 112 yards and three touchdowns in his second game of the season – San Diego probably won't want to sign Jackson to a long-term contract.
As the
San Diego Union Tribune
points out, the Chargers could be scared off by his personal history (two DUI arrests and driving with a suspended license) and the fact they'd have to pay him a megaton of money for a guy they probably consider unreliable.
But if the next Collective Bargaining Agreement continues the use of the franchise tag, there's a pretty good chance San Diego would hand off that designation to Jackson.
The
Union Tribune
explains:
First, no one is certain what a tag would look like (and if there will even be one) under a new CBA. And even if the franchise tag rules remain the same, the Chargers would have to choose between putting the exclusive or non-exclusive tag on Jackson.

The exclusive tag would mean Jackson would be guaranteed a one-year salary worth the average of the five highest-paid receivers (expected to be more than $10 million) but be unable to negotiate with any other teams. A non-exclusive tag would mean he gets the $10 mil-plus salary but would be able to negotiate with other teams. If he did agree to a contract with another team, the Chargers would be able to match the offer to keep him (not going to happen) or be entitled to two first-round picks as compensation for losing him.

While there is no consideration currently to ever give Jackson a long-term deal, a tag also gives everyone time to see if Jackson stays clean. It is a concern – not just in the Chargers front office but around the NFL – that another serious legal issue for Jackson would result in him being suspended for a full year. The only thing that would bring leniency and calm fears is more time having passed.

A franchise tag would not sit well with Jackson, but then again, he hasn't exactly been a model NFL player/citizen either, so who else could he blame but himself?
For more NFL news, rumors and analysis, follow @cbssportsnfl on Twitter and subscribe to our RSS Feed .