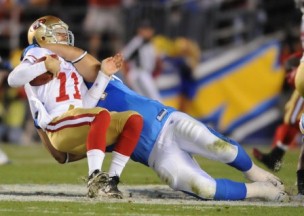 Posted by Will Brinson
All year long, the
49ers
quarterback situation has remained one of the most asinine starting decisions in the NFL. Picking the best available quarterback --
Alex Smith
,
Troy Smith
or
David Carr
?!?!?! -- is like picking the healthiest meal off of
This Is Why You're Fat
. And yet, Mike Singletary is still trying to play games, refusing to name a starting quarterback for Sunday's matchup against the
Rams
... even though he already knows who it is.
But ... but ... WHY?
"Because it's something I don't want to announce right now,"
Singletary said via CSN Bay Area
.
Oh, well in that case, I'm sure Steve Spagnuolo won't care at all, since he's not spending his week preparing his team for whoever's starting.
"In all honesty, in terms of an advantage, the only real advantage that you can have is to go there and play well," Singletary said. "All the other stuff is cat-and-mouse stuff. I just think it's important for us to prepare well and be ready to go."
See, this is why Singletary is a bad head coach. (But an EXCELLENT position coach and motivator.)
He just got paddled by the
Chargers
on semi-national television, his quarterback stable is full of whatever the mutt version of a horse is, and yet, at 5-9, he's still inexplicably in the division title race.
What he should be doing is quietly going about his business, picking his quarterback and getting his players ready to try and save his job. What he should
not
be doing is calling unnecessary attention to himself. And, yet, here we are on Tuesday and he's like a parent, taunting a young child by putting wrapped presents all over the house and constantly reminding them not to open them until Christmas day. Unfortunately for Singletary, the strategy is moot, because everyone already knows it's an ugly sweater under that wrapping paper.
For more NFL news, rumors and analysis, follow

@cbssportsnfl

on Twitter and subscribe to our
RSS Feed
.