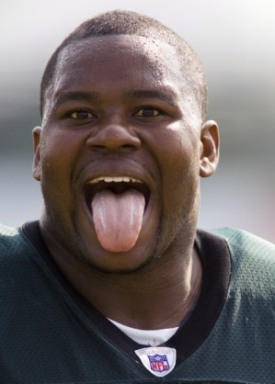 Posted by Josh Katzowitz
Sure, many of the updates on Twitter by NFL players and officials are insufferable. Telling us where they're going to eat, telling us where they're shopping, telling us to follow the Twitter account of their wife/brother/buddy/flavor of the month. Basically, you have to wade through piles of manure to find the single, solitary rose that makes it all worthwhile.
But those sweet-smelling flowers ARE out there. And they're funny and interesting and thought-provoking and question-answering. Much of Twitter – similar to life, I suppose – is just not good and, frankly, a waste of time. But there are special souls out there who seem made for Twitter. And we were made to follow them.
Here is the Top Ten List with a Twist of the best NFL-related Twitter accounts.
10.
Vikings
P
Chris Kluwe
(@chriswarcraft): A late entry onto the list but surely shooting up the charts. Kluwe was the player who ripped the TCF Bank Stadium field the day before Minnesota played the
Bears
last Monday night. It was honest and refreshing. Until somebody asked him to stop.
Best recent example:
"I find it interesting that the NFL can claim an emphasis on player safety, and then tell us the field is fine. It's beyond hypocritical."
9. Salarycap101 (@salarycap101): It's a little
Redskins
-centric, probably because J.I. Halsell is a former salary cap analyst for Washington, and it's mainly retweets. But from time to time, he comes up with some interesting salary figures, particularly when it relates to
Albert Haynesworth
.
Best recent example:
"As I mentioned back in November when McNabb's "extension" was done; the "commitment" shown by deal, truly was not a commitment at all."
8. Pro Football Focus (@profootbalfocus): If you want strong analysis and sharp people who know how to watch film and interpret what it means, go to Pro Football Focus (only one 'L' in its Twitter handle). Impress your friends. Discourage your enemies. The guys at PFF will help you do both.
Best recent example (on Ndamukong Suh):
"It's not nitpicking. They are major flaws in his play that are being ignored by most people. There's no reason to do so … There's nothing wrong with saying he's a massive talent, and potentially a dominant force for years, but flawed right now."
7.
Bills
WR Stevie Johnson (@steviejohnson13): I think we all know why Johnson is on this list.
Best recent example (after dropping a game-winning TD in Week 12):
"I PRAISE YOU 24/7!!!!!! AND THIS HOW YOU DO ME!!!!! YOU EXPECT ME TO LEARN FROM THIS??? HOW???!!! ILL NEVER FORGET THIS!! EVER!!! THX THO..."
6.
Cardinals
Darnell Dockett
(@ddockett): Put it this way: the guy doesn't mind creating controversy through the 140-character written word.
Best recent example:
"And don't come to my funeral empty handed, bring some crabs, krispy kreme, jeezy new CD. LO LO's chicken, oysters, and crayons!!"
5. George Atallah (@georgeatallah): He's the NFLPA assistant executive director of external affairs, and he's been very active lately, detailing the players' side in the labor dispute. And he's pretty witty as well. A couple days ago, he conducted a Twitter chat, which was pretty cool.
Best recent example:
"#NFLPA & #NFL proposed a resolution on rookie $. If that were a key to negotiations, we'd have a deal by now. Our proposal was rejected."
4.
Colts
owner Jim Irsay (@jimirsay): This account comes off, well, a bit weird, because in many – if not most – of his posts, he's quoting the lyrics to some rock song. But it's entertaining, because it's so psychedelic.
Best recent example(s):
"Ladykiller,Regulation tattoo,silver spurs on his heels."What can I tell ya,as I'm stand'in next 2 U,she threw herself under my wheels!!!".."
and
"I understand my own Tweets 80 per cent of the time...the other 30 per cent...I'm just as confused as you!!!!"
3.
Bengals
WR
Chad Ochocinco
(@o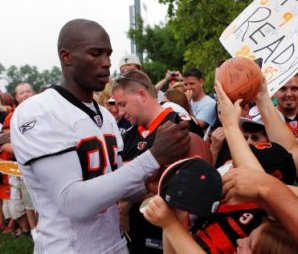 chocinco): Fans love him because he was one of the first NFLers to really embrace Twitter and because he's prone to inviting his fans to Friday night movies and then paying the admission for everybody who shows up.
Best recent example:
"OchoHarmony.com First dating site where you don't have to deal with the full headache, you can return them back before they become a problem."
2. NFL spokesman Greg Aiello (gregaiello): The fact the NFL PR department has made it a priority to talk directly to the people, well, that's outstanding. More than 13,000 followers agree. He's also prone to poetry.
Best recent example:
"Monday Night Haiku: 'In the stands with fans/Raw, cold, real community/Nothing like football.'"
1.
Giants
LT
Shawn Andrews
(@imshawnandrews): I first noticed Andrews' tweets when he was in the hospital with back problems, and he updated his followers constantly about how hungry he was (if I remember correctly, there was talk about eating the pigeons that mocked him from outside his window). Quite frankly, this dude is hilarious. I don't know what he's like in real life, but he's quite funny in print (which is not easy, mind you). By far, he's my favorite NFL-related twitterer.
Best recent example(s):
"If u ever sprayed cologne up in the air & danced in it & then hoppd out real quik out for fear of putting too much on. #YouJustLikeMe"
and
"If u want a kick-butt Quesadilla try Moe's.... So bad when I have to sneak bites of my son's... #ImSoFat"
and
"All I want for Christmas/Birthday is for 5 Guys (Burgers & Fries) to announce me as the New 6th Guy...... I'll come off the bench #ImSoFat"
and
"If you've ever had to take a shower w/ a handtowel cause u aint have any clean washcloths. #YoureJust like me That sucka get heavy don't it?"
For more NFL news, rumors and analysis, follow @cbssportsnfl on Twitter and subscribe to our RSS Feed .