Posted by Andy Benoit

The discussion about the Jets has shifted after last week's game in Pittsburgh. No longer are we talking about Mark Sanchez crumbling before our eyes. Brian Schottenheimer's simplified Week 15 gameplan – more bubble screens, quick slants and throws with defined reads – helped the young quarterback regain his confidence and rhythm.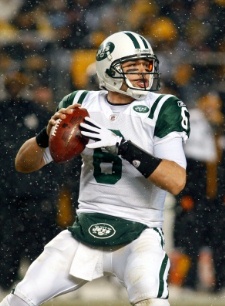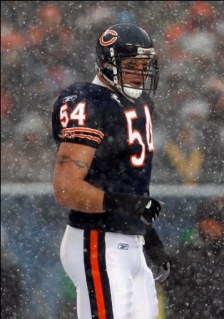 But just because Sanchez was solid against the Steelers – and solid was all he was – doesn't mean we can simply dismiss his struggles the previous two weeks. This Sunday still presents a "prove it" game for the second-year pro. The Jets come in with the league's sixth-ranked run offense. The Bears have the league's third-ranked run defense. The Jets won't be able to run at will this Sunday; on more than one occasion, they'll have to rely on Sanchez's arm.

The difference between this week and last week for Sanchez will be in his throwing lanes. Quick strikes against a 3-4 blitzing D like Pittsburgh's are very different than quick strikes against a 4-3 zone D like Chicago's. The Bears have the most athletic pass defending linebackers in football. Brian Urlacher's range down the middle of the field is arguably the most crucial staple in Lovie Smith's Cover 2 scheme. Lance Briggs' speed in the flats gives Chicago's front seven a unique playmaking dimension. When Sanchez needs to regain his comfort, he tends to look for tight end Dustin Keller. But the very nature of Chicago's coverage scheme, highlighted by the star linebackers, takes away the simple passes over the middle and in the flats. Thus, there's no guarantee that Keller, Jerricho Cotchery and LaDainian Tomlinson will be a surefire safety valve for Sanchez on Sunday.

The way to beat the Bears is to expose their limited safeties by seeking big plays through the air. Chris Harris is essentially a fourth linebacker; rookie Major Wright is at his best playing downhill and attacking the box; Danieal Manning has range but lacks awareness.

For the Jets, it's key to force these guys to run away from the line of scrimmage and into space (where they'll have to read route combinations). The Bear cornerbacks are stiff, plodding athletes (by cornerback standards). Those corners shouldn't have much trouble with Braylon Edwards, but shifty, speedy Santonio Holmes is a whole other story.

The Jets will need multiple big plays downfield from Holmes in order to win this game. Such plays tend to be slow-developing, which puts added pressure on the offensive line. With occasional help from a tight end or fullback, D'Brickashaw Ferguson can hang with Julius Peppers. But on the other side, New York must overcome the glaring mismatch of backup right tackle Wayne Hunter against underrated defensive end Israel Idonije.

The Jet and Bear defenses, more than most defenses, thrive off turnovers. Last week's Jets-Steelers game was free of all turnovers. If this week's Jets-Bears game follows a similar pattern, the outcome will hinge on whether the Jet passing game can generate big plays.
For more NFL news, rumors and analysis, follow @cbssportsnfl on Twitter and subscribe to our RSS Feed .