Posted by Will Brinson
Donovan McNabb
went on the radio Tuesday
and said that he'd been "disrespected"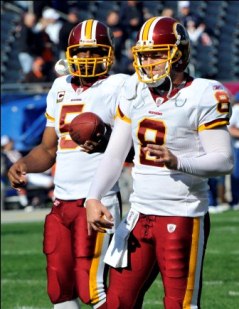 when
Redskins
coach Mike Shanahan decided to make him the third-string quarterback.
So you have to wonder how McNabb feels now that Shanahan has decided to lob out an offer to take McNabb back in 2011 ... as a backup. (
Update:
McNabb's agent has released a statement
, and
so has Shanahan, via the Redskins
.)
"I'm not sure he would [return as a backup], which I would understand,"
Shanahan said via Jason Reid of the Washington Post
. "But I think that's why we're talking about hypothetical situations. I don't think that would happen. But if he was interested in that, obviously, that'd be a possibility."
Shanahan also said that "
people might have speculated
" on Grossman starting over McNabb but it was never actually realized
until he told both quarterbacks last Thursday
.
But that's really semantics, because the dissonance between McNabb and Shanahan is almost mind-boggling at this point. After all, it's not like Shanny's sitting on a franchise quarterback right now (although theoretically Grossman could be his Jake Plummer-like bridge to whatever his Washington version of
Jay Cutler
will be, but, um, have fun with that).
Not to mention,
the Redskins signed McNabb to an extension
, which means they'll have to cough up an extra $10 million if they want to keep him in 2011. They could trade him, of course, but it seems a lot less likely that another quarterback-needy team (Seattle? San Francisco? Minnesota? Carolina? Arizona? Bueller? Bueller? Anyone?) will part with anything of significant value knowing that Shanahan doesn't perceive McNabb worth the amount he'll cost his own team.
As a result, the most likely way this plays out is the Redskins cutting McNabb approximately one minute
before the deadline to pick up his option
, after a lengthy offseason filled with "I want to play but I want to start" quotes from McNabb countered daily by "We'll welcome Donovan back any time he wants as long as he understands his role" retorts from Shanahan.
So, yeah, just like
Albert Haynesworth
's whole thing
minus all the vitriol
.
For more NFL news, rumors and analysis, follow

@cbssportsnfl

on Twitter and subscribe to our
RSS Feed
.