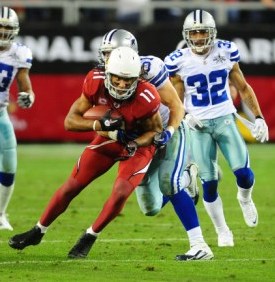 Posted by Josh Katzowitz
You know what amazed me most Saturday night about
Larry Fitzgerald
? The fact that, after the
Cardinals
had pulled off their 27-26, last-minute victory against the
Cowboys
, Fitzgerald ran off the field to the locker room, and he had a huge smile on his face.
He was gesturing to somebody in the stands – or across the field, I suppose – and he looked joyous in his team's win. Not that big a deal, right? Well, then, you don't know many elite receivers.
With the exception of a 26-yard reception across the middle of the field on a fourth-and-15 on what would be the game-winning drive (as seen in the photo on the right), Fitzgerald played no role in Arizona's offense. Hell, rookie QB
John Skelton
barely even looked his way.
Which is insane. Fitzgerald is one of the best receivers in the game, but it seems like, at times, he's been an afterthought this season with the Cardinals. He's caught 79 passes this season for 1,012 yards and five touchdowns – numbers that are not Fitzgerald-like – while taking passes from three different QBs, including two rookie QBs (Skelton and
Max Hall
). Fitzgerald probably wistfully longs for Kurt Warner, but those days are gone. And his team is 5-10 and will not sniff the postseason.
But there was that smile as he ran off the field. You think there are many top-flight receivers in the game who would be so joyful after basically being ignored all game? Not many who would take it as well as Fitzgerald.
"You could just tell," Cardinals quarterback John Skelton told reporters, including the
Arizona Republic.
"He was getting pretty frustrated. You see the guy, been around him, you know. But he didn't get down on himself or the team."
Before Saturday, Fitzgerald had caught at least two passes in 97-straight games. That streak is over (though now he's caught at least
one
pass in 98-straight games (though that's not quite as impressive, is it?)).
"If you would have caught me about four years ago, I might have been pouting on the sidelines," Fitzgerald said. "There just (weren't) many opportunities today. It goes like that sometimes. But you have to stay encouraged, you have to fight. That's part of being a professional."
His teammates – and Cardinals fans – should appreciate that. That trait isn't always present in wide receivers of his quality.
For more NFL news, rumors and analysis, follow @cbssportsnfl on Twitter and subscribe to our RSS Feed .