Posted by Andy Benoit

1. The NFC's new most dangerous team?

It took a little over three hours for the Green Bay Packers to become the favorites in the running for this year's "Wild-Card team that nobody wants to face" moniker. Their 45-17 dismantling of the New York Giants was a showcase of explosion, b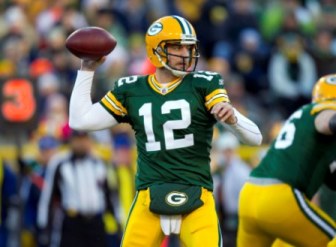 oth offensively and defensively. Aaron Rodgers completed passes of 36, 26 and 24 yards to Greg Jennings. He lasered an 80-yard catch-and-run score to Jordy Nelson (safety Deon Grant's lack of burst helped the play) and later found the lanky slot receiver for a 38-yarder. Rodgers also found Donald Driver for a 33-yarder against cornerback Terrell Thomas, who was targeted all afternoon.

The Packers did not run particularly well. Brandon Jackson managed just 39 yards on 18 attempts; the rest of the team combined for a more-respectable 80 yards on 17 attempts. However, perhaps building off their rushing success from last Sunday at New England, the Packer offense at least showed balance early on, running on 10 of its first 20 plays and having 18 rush attempts vs. 23 pass attempts at halftime. (By the way, in what was perhaps the emptiest quote of the year, Mike McCarthy told FOX sideline reporter Pam Oliver at halftime that he'd like his team to have better run/pass balance in the second half).

At the end of the day, Rodgers sealed the NFC Offensive Player of the Week award with 404 yards and four touchdowns. Numbers half that good would have gotten a win considering Green Bay's defense forced five turnovers. FORCED is the operative word here; Ahmad Bradshaw's fumble was bad, but the story of that play was Charles Woodson getting in the backfield and punching the ball out. And Woodson's punch out wasn't as fierce as the one Clay Matthews had on Brandon Jacobs two possessions later.

Aside from a few uncharacteristic deep coverage blunders in man-to-man by cornerback Tramon Williams, Dom Capers' unit was excellent. Injuries have left the Pack D with a few deficiencies this season, but as the '09 Saints showed, personnel deficiencies can be masked with big plays generated by an aggressive, complex scheme.


2. A Giant meltdown unfolding?

The New York papers on Monday aren't going to characterize Sunday's game as a "Packers win" – they'll characterize it as a "Giants loss". And that will be accurate. The Giants were as sloppy as the Packers were great. Eli Manning tossed four interceptions, bringing his league-leading total to 24 on the season. If interceptions weren't automatically credited to the quarterback but, instead, charged to culpable players the same way errors are charged in baseball, Manning's pick total would be somewhere around 15 this season. No passer has been shafted by his receivers in the turnovers department quite like Manning this season. And it's not just the tipped balls; improper route running as a result of bad reads have become a specialty with this group (Hakeem Nicks illustrated this on more than one occasion Sunday).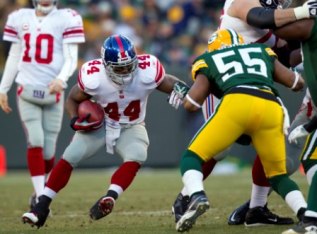 The Giants have also struggled to run the ball these past two weeks. You can't help but wonder if the re-insertion of Shaun O'Hara at center is to blame. O'Hara is one of the best veteran blockers in the game, but the Giants found a rhythm when he was hurt and guard Rich Seubert was filling-in in the middle. That rhythm has been nonexistent in the two weeks since O'Hara returned.

Also non-existent is New York's pass-rush – at least on paper. Osi Umenyiora and Justin Tuck were able to get pressure on Aaron Rodgers, but only once did that pressure result in a sack. Rodgers' mobility and natural playmaking prowess took over this game. A week ago, it was Michael Vick's mobility and natural playmaking prowess taking over. Giants defensive coordinator Perry Fewell has concocted two good gameplans the past two weeks, but given the breakdowns from his defense, it's possible he's now questioning whether his back seven is talented enough to handle the heavy doses of man coverage.

The New York media is going to turn all of these issues into a "Tom Coughlin hot seat" discussion, which is understandable but nevertheless silly. The Giants' problems have not been schematic or strategic, they've been mental. And those mental problems have not been continuous like the problems we saw in Dallas or are currently seeing in San Francisco. Rather, the mental mistakes have just been of the spectacular variety. The Giants are fine for nine plays, but on the 10th, they'll make the grand blunder. It's easy for a columnist to chalk this up to Coughlin losing the team, but players don't do things like fumble, miss tackles against amazing offensive athletes or punt the ball to the wrong spot because they've stopped listening to their coach. Coaching changes come about when teams stop playing hard. If anything, the Giants are playing too hard and pressing. Nevertheless, this rationale will hold little water in the Big Apple this week, as Coughlin's seat is warming with his team now needings serious outside help just to reach the postseason.


3. As for that other New York squad…

No playoff worries for the Jets – they're in. They have David Garrard to thank. The Jaguars quarterback gave the Redskins excellent field position with his overthrown interception to Carlos Rogers in the first quarter, leading to a Rex Grossman one-yard touchdown pass. Then, in overtime, Garrard did it again, only this time he went with an underthrow to complete the pick (cornerback Kevin Barnes as the lucky recipient). Barnes' interception set up Graham Gano's third successful overtime field goal on the season, which dropped the Jaguars to 8-7 and eliminated them as New York's only chaser the AFC Wild Card race.

So the Jets are in despite losing 38-34 at Chicago. Not an ideal clinching scenario, of course. Perhaps there is reason to worry about the Jet defense. After all, Jay Cutler had three touchdown passes of 25-plus yards…in the third quarter alone. And Matt Forte needed just 13 carries to become the first player in 21 games to rush for 100 yards against Rex Ryan's D* (Forte finished with 113 yards on 19 carries). The Jets got no pass-rush Sunday and looked totally unaccustomed to the concept of tackling players in frigid temperatures. But, as you'll read about in Story 4, there was one factor that could tag a legitimate asterisk on this aspersion of the defense.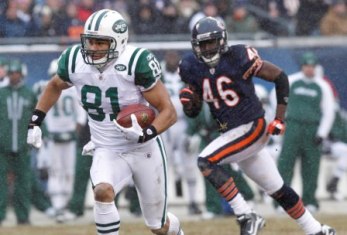 The rest of Story 3 pertains to a Jets offense that posted 27 points (Dwight Lowery's interception return provided the other seven). In short, it was spectacular. Pretty much everything that was predicted in my Week 16 Key Matchup feature proved to be 180 degrees wrong. Shonn Greene managed 70 yards on 12 carries (by the way, don't be surprised if Greene once again becomes the featured back in the postseason; LaDainian Tomlinson, who has been a somewhat listless ballcarrier the past two months, had just 28 yards on 13 carries Sunday). Mark Sanchez completed 24/37 by throwing consistently over the middle of the field. His favorite target was Dustin Keller (seven catches, 79 yards).

Credit Brian Schottenheimer for devising one of the shrewdest offensive gameplans we've seen this season. Schottenheimer used a host of presnap gyrations and postsnap misdirections to get the speedy Bears linebackers flowing away from the play and to enabled Sanchez to make simple reads and short, comfortable throws. Even most of the plays in which Sanchez went downfield and hit his second or third target were a result of brilliant design (the one that comes to mind is Santonio Holmes' 23-yard touchdown in which safety Danieal Manning was forced to abandon his deep zone and pick up Keller's drag route over the middle).

Last Sunday, the Jets got their first offensive touchdown since Thanksgiving. This Sunday, they got their first passing touchdown since Thanksgiving. Even in a losing effort, they've all but run out of statistical droughts just in time for the playoffs.
*It was believed that Rashard Mendenhall had 100 yards rushing against the Jets last week. However, the powers that be went back a day after the game and ruled that Mendenhall actually had 99 yards.




4. Soldier Field Quagmire

Here's a prediction: in an upcoming postseason game the Bears will give up a bunch of big plays and lose at home to a team they'll believe they were better than. They'll come away realizing that the atrocious field conditions at Soldier Field will always do what they did in Week 16 against the Jets: create an enormous advantage for the offense. On a sloppy field, pass-rushers can't get enough traction to fire off the ball (this is part of the reason New York's athletic but inexperienced right tackle Wayne Hunter singlehandedly shutout Julius Peppers) and defensive backs can't recover quickly enough to handle a receiver's double move.

Realizing that they're still a defensive team even though Jay Cutler has blossomed in Mike Martz's well-crafted and well-taught system, the Bears will look to ensure that a sloppy field never costs them another Super Bowl run again. Thus, in 2011, out with the mud and sand painted to look like grass and in with the ultra-consistent field turf.

You might be thinking that the Bears should actually enjoy their sloppy field. After all, the field is the same for both teams, and at least the Bears, unlike their opponents, are familiar with it. That's a valid concept, but in this case, the conditions are so extreme that no team can render an advantage. Only offensive players benefit, and even they would like a more reliable playing surface. This is why the Bear players have been vociferously griping about the field conditions this season.

Of course, the Bears don't necessarily have to risk learning a tough lesson in the playoffs here. They can install FieldTurf tomorrow if they want. The Patriots did that in the middle of the '06 season. And the Cowboys replaced their Astroturf with FieldTurf in the middle of the '02 season.


5. Chargers make us kick ourselves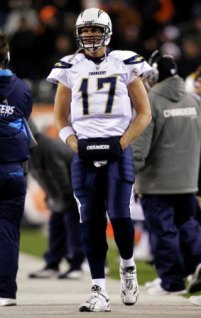 Have you ever found yourself counting on a close friend to come through big for you but doubting that they actually will? Perhaps you are working on an important project together. Or maybe you need the close friend to give you a ride to the airport. Or loan you something of necessity. Or just be a sidekick at a special event. Anyway, as the big moment draws nearer, you have a feeling that your close friend is not going to come through. But because they're a close friend and because they've come through before, you ignore your intuition.

Then, sure enough, when the moment comes, your close friend doesn't come through and you're left wondering why you didn't act when you thought you saw it coming.

This is what watching the 2010 San Diego Chargers has been like. We figured the Chargers would win the AFC West because they always win the AFC West. When they stumbled out of the gates with a 2-5 record, we started to worry. When they rebounded but then suffered an ugly loss to the Raiders a few weeks ago, we got nervous but ultimately assumed everything was still cool.

Then, sure enough, on Sunday, the perennial AFC West champs went to Cincinnati and got pummeled by a Bengals team that, as it turns out, is probably better without its divisive star receivers. The loss dropped San Diego to 8-7 and officially out of the postseason. The team that we worried would let us down but assumed would somehow not let us down wound up letting us down.

It's shocking that it was THIS Charger team that finally fell short in the end. Yes, the bumbling special teams put the club in a 2-5 hole. And yes, injuries and holdouts pocked the offense. But it's still an offense that ranks second in total yards. Oh, and by the way, the defense ranks FIRST in total yards. In any year, it would be unusual for a No. 2 offense or a No. 1 defense to miss the postseason. For a No. 2 offense and a No. 1 defense to be of the same team AND miss the postseason? Unbelievable.


6. A head coaching career headed to the Singletary – errr, cemetery

In a small (and rare) victory for justice in the NFC West, the Cardinals beat the Cowboys on an improbable finish Christmas night (as meaningless games go, that one was as entertaining as it gets). The Cardinals' win makes it possible for the 49ers to finish last in football's worst division (Arizona just needs to beat San Fran next week).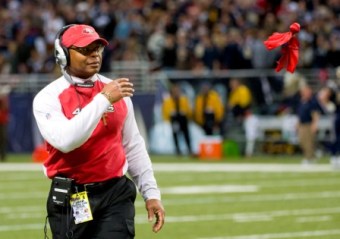 No team deserves a basement finish more than San Francisco. Mike Singletary has been a lame duck since virtually Halloween – and the players have known it. Twice this season Singletary has questioned a quarterback on the sideline only to have the quarterback shout back in his face: Alex Smith in the Sunday night loss against Philadelphia and Troy Smith most recently in the 25-17 loss at St. Louis.
Not long after shouting at Singletary, Troy was benched for Alex. Alex will be remembered this game for showing horrendous pocket awareness on the final fourth quarter drive low-lighted by his second down sack and Ted Ginn's inexplicable failure to get out of bounds after converting a fourth down in the waning seconds.

It's not fair to criticize either Smith for shouting at their head coach because we don't know what was being said. But it IS fair to ask: Can you imagine Belichick/Cowher/Tomlin/Dungy/Parce
lls etc. having a quarterback shout in their face? Sure, it's a competitive, emotional game. But you just don't see head coaches get shouted at by quarterbacks. Even when Rich Gannon and Jon Gruden would bicker, all that was was bickering. The Smiths and Singletary haven't been merely bickering. Neither Smith has a reputation for being an insubordinate guy (though some believe Alex Smith helped run Mike Nolan out of town). On the surface, it looks like not all the Niner players, and not these quarterbacks in particular, truly respect the head coach.

It might not matter, as Singletary is out now. Jed York will likely hire a GM before he hires a new head coach. Too bad Bruce Allen is already locked up in Washington; Allen's presence wouldn't hurt San Francisco's chances at coaxing Jon Gruden back to the Bay Area.
Whoever the new GM is, he'd better have an eye for quarterbacks. That seems to be all the 49ers are truly missing. San Francisco's defensive front seven is borderline outstanding (just ask the Rams, who managed 60 yards on 28 rushing attempts Sunday). There are playmakers at all the offensive skill positions. And, though the offensive line has struggled, it's a unit that features two first-round rookies (left guard Mike Iupati and right tackle Anthony Davis).



7. The all-important meaningless games

A side effect that had to be unforeseen when the NFL decided to schedule only divisional matchups for Week 17 is the bizarre scenario of teams still chasing playoff berths but having a meaningless game in Week 16. The Colts and Seahawks both experienced this Sunday. Because the Jaguars lost early to the Redskins, the Colts did not technically need to win at Oakland. All that matters is that they beat the Titans next week. For the Seahawks, the same situation played out at Tampa Bay because of the Niners' loss to the Rams.

The Seahawks played like a team that fully understood this scenario. The Bucs did whatever they wanted against them. Josh Freeman tossed five touchdowns, which matched the number of incompletions he had on 26 pass attempts. LeGarrette Blount racked up 164 yards on 18 carries. Tampa's defense held Seattle to 179 yards. Seattle scored only eight points after Matt Hasselbeck left with a non-contact hip injury. The 38-15 loss means the Seahawks' average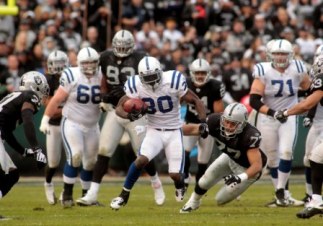 margin of defeat this season is an astonishing 21 points. The closest of their nine losses was 15 points (Week 11 vs. the Saints).

The Colts, on the other hand, played like a team that had no idea it was partaking in a meaningless game. For starters, they did not roll over and put Curtis Painter on the field. They did, however, put Dominic Rhodes on the field, but only because they think the veteran journeyman might end up being their featured back in the playoffs. Joseph Addai returned after missing eight weeks with a neck injury. The first-round pick of '06 was brought along fairly slowly, finishing the game with 45 yards on 12 carries.

For the past two months, another former first-round pick, Donald Brown, has been filling in for Addai. However, the Colts brass may finally be admitting what they've likely been grumbling all along: Brown lacks the necessary quickness and vision to be a quality NFL back. Brown got only six carries against the Raiders; Rhodes got 17. But wait! Brown was coming off a career-best 129 yards rushing against the Jaguars! He was snatched off the waiver wires in all my fantasy leagues! He's a young first-rounder! No way the Colts would choose Rhodes over him!

But that seems to be the case. The reality is the NFL is not a gaping-holes league. What Brown did against Jacksonville was a product of Jacksonville's poor linebacking and safety play. Rhodes has better shiftiness and awareness than Brown. Rhodes' return to relevance may end up saving the Colts. Indy rushed for 191 yards against the Raiders. If they can muster even a modest threat running the ball, they'll be a tough out.


8. A higher power in Denver

Tim Tebow's second NFL start was a Testament – err, testament to the value of mobility for a young quarterback. John Madden always said that it's important a young passer be able to move because, inevitably, a young passer is going to panic under duress and be inclined to flee the pocket. Tebow did not show a whole lot of panic facing Houston, owner of the league's worst pass defense (if not worst defense overall….did you know the Texans have now set an all-time NFL record by allowing 24 points in 14 games this season?).

The first-round rookie threw for 308 yards, completing 16/29 passes. Tebow also scrambled for 27 yards on 10 runs, including his game-winning six-yard touchdown late in the fourth quarter.

Brandon Lloyd was responsible for 111 of Tebow's yards. Most enchanting was Lloyd's spectacular 41-yarder in which he elevated to show off his otherworldly suppleness.

Bronco fans were happy with Tebow, but Panther fans were thrilled. Denver's win locked up the No. 1 pick in the 2011 Draft for the lowly Panthers.


9. Business as usual for Baltimore

Ray Lewis vowed that the Ravens would not let Peyton Hillis run over them again. (Hillis rushed for 144 yards against this club in his Week 3 NFL coming out party.) There isn't a soul alive who didn't believe all week that Lewis was good for his word here. Which is why there isn't a soul alive who is the least bit surprised with Baltimore's matter-of-fact 20-10 win at Cleveland.

Ed Reed had a pair of interceptions in this game (Colt McCoy struggled with accuracy and had too many balls hang up in the air); the Ravens are now 10-0 when Reed has a multi-pick game. Some might say Reed was on fire Sunday. I'd love to, except doing so would, at this point, be a sorry, obvious joke given what happened with Reed's jacket on the sideline late in the fourth quarter.



10. Quick Hits

**Santonio Holmes vowed to the CBS broadcast crew earlier in the week that he'd never wears sleeves during a game because sleeves caused him to fumble once at Ohio State. Then Holmes wore sleeves against the Bears. And, sure enough, he fumbled early in the first half.
**Hard to believe that the upper bowl at Arrowhead Stadium was only half full f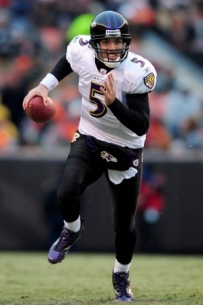 or the Chiefs division-clinching win against the Titans. The Chiefs, remember, sold out a record 156 straight games from December 1990 through December 2009.
**I have heard from a few people recently about the outstanding play of Bills NT Kyle Williams. I'll have to watch the film closer after the season, but on a surface level glance, I have trouble believing any members of the league's worst run defense is playing very well. Every time I looked over at the Patriots-Bills game Sunday, BenJarvus Green-Ellis and Danny Woodhead were picking up five yards on runs that should have gone for one or two. It's been that way all season with the Bills.
**Despite being a game manager his first two seasons as a pro, on Sunday Joe Flacco became just the sixth player in NFL history to throw for 10,000 yards in his first three years.
**Aaron Rodgers debuted his new, safer helmet against the Giants. My question is if the NFL is so concerned about concussions, why aren't more players, whether they've had a concussion or not, being forced to make this helmet switch?
**The Raiders-Colts final score (31-26) was only close because the Raiders got an opening kickoff touchdown return from Jacoby Ford and 59-yard and 54-yard field goals from Sebastian Janikowski.
**The Chargers ought to be worried about first-round rookie Ryan Mathews. Besides being injury prone and inconsistent, the Fresno State product has been downright inexplosive. Mathews' 24-yard touchdown scamper against the Bengals marked his longest run on the season.
**Will Brinson and I reviewed all of the major Week 16 stories in the CBSSports.com Football Podcast Sunday night. Click here to check it out.


For more NFL news, rumors and analysis, follow @cbssportsnfl on Twitter and subscribe to our RSS Feed.