Posted by Andy Benoit

Because a handful of teams have nothing to play for in Week 17, deciphering the injury report can be a very inexact – and, frankly, pointless – science. Thus, we'll only bother analyzing the injury reports from games that carry playoff implications.
Panthers @ Falcons

CB Chris Gamble's miserable season has already endedwith a thud, as he's out this week with an ankle injury. WR Steve Smith is questionable and did not practice due to a bad calf.

The only player who is questionable and did not practice for Atlanta is DT Jonathan Babineaux. We'll use this opportunity to once again state that Babineaux was a major Pro Bowl snub.

Buccaneers @ Saints

Because virtually all of Tampa Bay's key injured players have already been placed on IR (Arrelious Benn, Jeff Faine, Aqib Talib, Davin Joseph, Cody Grimm), their injury report looks misleadingly thin. Only FB Earnest Graham is worth noting (out with a neck).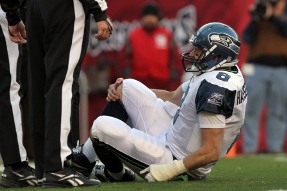 The Saints placed KR Courtney Roby (head) on IR this week. Pierre Thomas, fresh at this point because he missed eight weeks in the middle of the season with an ankle injury, will likely continue to handle the kick returns now (though he missed some practice time this week with that ankle). Tight ends Jeremy Shockey (groin) and Dave Thomas (knee) missed practice all week, further opening the door for bourgeoning youngster Jimmy Graham. WR Marques Colston is "questionable" but, more likely, "doubtful" after undergoing arthroscopic knee surgery on Tuesday.

Rams @ Seahawks

The Rams are healthy – everyone practiced. The Seahawks had a somewhat surprising contributor at practice Friday: QB Matt Hasselbeck. Looks like he'll try to play despite a strained left hip. Hasselbeck's security blanket, WR Brandon Stokley, is questionable after not practicing with a head injury.

For more NFL news, rumors and analysis, follow @cbssportsnfl on Twitter and subscribe to our RSS Feed .