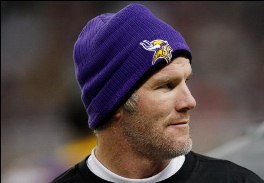 Posted by Will Brinson
If it seemed that
Brett Favre
would move out of the public limelight until training camp next year, well, sorry -- he's reportedly being sued for sexual harassment by two massage therapists that worked with the New York
Jets
.
According to
Good Morning America
, Christina Scavo and Shannon O'Toole filed a lawsuit in the Supreme Court of the State of New York on Monday against Favre, the Jets and Lisa Ripi, who hired massage therapists for the Jets. (Note that this is not related to any sort of potential litigation involving Jenn Sterger,
which might have some forensic issues, but could still come
.)
The suit alleges a number of scandalous items, including the allegation that Favre texted Scavo and other unidentified therapists seeking to "get together." In addition,
Good Morning America
reports that, according to the lawsuit, Favre allegedly attempted to persuade multiple therapists into having a threesome with the quarterback.
The allegations also include a number of other instances where Favre sent -- surprise, surprise -- text messages to the masseuses seeking what would appear to be some sort of sexual interaction.
Scavo claims in the lawsuit that Favre treated her like a "hanging slab of meat" and the lawsuit also describes the Jets training camp and locker room as "a hot bed of sexual harassment, sexism and inappropriate behavior."
"I suspect that this case is only the tip of the iceberg with respect to the harassment and discrimination experienced by women working for NFL teams and their players as well as all of men's professional sports," Elizabeth Eilender, the attorney for Scavo and O'Toole said in a statement to
ABC News
. "I hope that Ms. Scavo's and Ms. O'Toole's courage to bring this suit will empower other women to come forward without fear of retaliation and retribution in order to protect their livelihoods and self-respect."
Obviously,
Favre was fined $50,000 by the NFL
for a failure to cooperate with the league's investigation into allegations involving communications between Favre and former Jets' sideline hostess Jenn Sterger.
At the time of Sterger incident coming under public scrutiny,
Deadspin.com also published a report
about additional women being sent messages from Favre. Without making ANY conclusion that relates to the guilt or innocence of either party, it's pretty obvious that the two stories align in a similar manner.
All of that is to say that, barring this lawsuit not actually being real or a speedy settlement, the world shouldn't plan on not talking about Brett Favre any time soon.
For more NFL news, rumors and analysis, follow

@cbssportsnfl

on Twitter and subscribe to our
RSS Feed
.