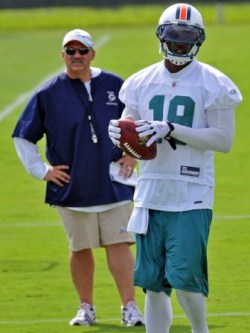 Posted by Josh Katzowitz
As
Dolphins
coach Tony Sparano continues to wait to hear about his job status, his players have begun to let loose their feelings. And it's likely not helping Sparano's cause. Or the confidence of QB
Chad Henne
.
We
told you Tuesday
about RB
Ricky Williams
saying he and Sparano were not a great fit and that he was excited to test the free agent waters. Williams said the team respects Sparano, but then he went on to blast Sparano's micromanaging.
So, that wasn't good.
But it gets worse.
WRs
Brandon Marshall
and
Brian Hartline
also broke down why the team's offense was so mediocre on a Miami radio show Tuesday, via the
Palm Beach Post.
And then Marshall went on a rant against Henne.
From the
Post
:
Marshall, who on Sunday said he's been on "different pages" with quarterback Chad Henne all year, explained what he meant with radio host Michael Irvin, and said he works better with backup Tyler Thigpen.

Marshall said that in Sunday's 38-7 loss to New England, there were several plays in which he was lined up 1-on-1 against Patriots cornerback Devin McCourty with no safety help over the top. Marshall, listed at 6-foot-4, has six inches on McCourty, and in the past, his height advantage and the 1-on-1 coverage almost always dictated that Marshall would change his play to a "go" route, and the quarterback would lob the ball up and let Marshall make a play.

"In the past, taking the shot always worked out pretty good, and that's something I've been trying to get called all year," Marshall said. "I'm covered, (but) that doesn't mean I'm covered. … Just throw it up, you know?"

But Marshall said that Henne and quarterbacks coach David Lee were never willing to improvise plays at the line of scrimmage, and when Marshall did, they would get upset with him on the sideline.

"Henne, the way he plays the game is he goes exactly through his reads, no matter the matchup," Marshall said. "Then you get to the sideline, and it's some conflict there because they don't like it (changing routes on the fly)."

But Marshall said Thigpen is different. And better with whom to work. It's because, Marshall theorized, Thigpen played with big-time receiver
Dwayne Bowe
while he was in Kansas City.
"I think Tyler gets it a little more," Marshall said. "I've been trying to communicate with the quarterbacks all year, and we finally get it in the last game. It shows what we're capable of doing. So yeah, Tyler is a guy that kind of gets it."
And Henne apparently doesn't. Again, not good.
For more NFL news, rumors and analysis, follow @cbssportsnfl on Twitter and subscribe to our RSS Feed .