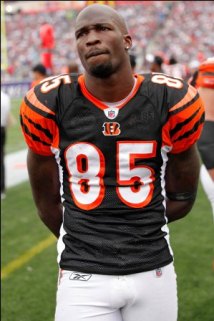 Posted by Josh Katzowitz
Though many of his players seem excited that Marvin Lewis will remain the head coach of the
Bengals
, WR
Chad Ochocinco
– who's been coddled for most of Lewis' eight years in Cincinnati – isn't sure how to feel.
He told Sporting News Radio, via
sportsradiointerviews.com,
that he feels betrayed by Lewis. That's why he didn't have much to say when asked about Lewis' return.
"I have nothing to say about that. I'm not the owner of the team. My hands are out of that situation. The only thing I can remember, as of right now, about Coach Lewis, is Coach Lewis throwing me under the bus. When it was time to play the
Chargers
, knowing that I was hurt. That's the only thing I can remember at this point."
Ochocinco is referring to the incident in which Lewis referred to Ochocinco as "mopey." Of course, Ochocinco absolutely IS mopey, one of the mopiest players around when he's in one of his moods. Not to mention sensitive and thin-skinned.
But if Ochocinco HAD to work with Lewis next season, could he do so?
"I don't know," he said. "Honestly, I don't know. To say some of the things that have been said in the past, for some reason, when I was especially down. When you look for support, it's always got to come from the one higher up. For the one higher up to say the things he said, it really hurt. I don't see myself really feeling (that)."
Luckily for Ochocinco, that probably won't be a problem. Considering it doesn't make much sense for the Bengals to pick up a $6 million option on a 32-year-old WR whose play diminished alarmingly last season, it doesn't seem likely he'll stay in Cincinnati. That way, he can go mope somewhere else.
For more NFL news, rumors and analysis, follow @cbssportsnfl on Twitter and subscribe to our RSS Feed .