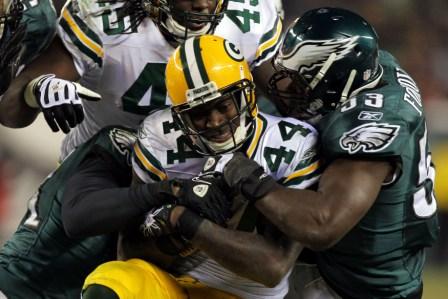 Posted by Josh Katzowitz
With their win vs. the
Bears
in Week 17, the
Packers
established themselves as the "non division winner nobody in the NFC wants to face in the playoffs." Tonight, they showed you why.
Aaron Rodgers
continued to establish himself as one of the best quarterbacks in the league – if you had to pick between Rodgers,
Drew Brees
and
Peyton Manning
to lead your offense, that would be a tough choice at this point – and the Packers are tough on defense (
Clay Matthews
,
Tramon Williams
,
Charles Woodson
, et al).
But here's the scariest part about Green Bay. The Packers now apparently have a running game. And with a running game, they very well might be the best team in the NFC.
Funny, they haven't had one of those for most of the year. After
Ryan Grant
was lost in the season-opener, Packers fans have been subject to watching
Brandon Jackson
be rather mediocre and
John Kuhn
try to convert himself from a fullback into more of a tailback (Kuhn has been pretty decent, actually).
But with the emergence of rookie RB
James Starks
, the Packers become
that
much more dangerous, because they take less pressure off Rodgers and because they make the play-action pass
that
much more effective.
Here's Rodgers talking about his running game:
Against the
Eagles
, Starks carried 23 times for 127 yards, including a key first down late in the fourth quarter that kept Green Bay's last drive alive for another three plays, and behind that performance, Rodgers threw for three touchdowns. And think about this: Starks only played THREE games in the regular season (he was on the physically unable to perform list for much of the year). Most notably, he had 18 carries for 73 yards in Week 13 vs. the
49ers
, but then he only played once in the next three games.
After tonight, I doubt he will be absent again.
So why hasn't he been playing lately? Well, there have been whispers about his practice habits. Not necessarily his work ethic, but about what he actually accomplishes while at practice.
"Keep in mind this is a young kid who is still continuing to grow and continuing to develop," Packers running backs coach Edgar Bennett told the
Milwaukee Journal Sentinel
this week. "Each and every one of our backs, they have a role and when their number is called they'll jump in and respond. He certainly has all the capabilities of being (an every-down back). He's talented."
Yes, we saw that tonight.
And now the
Falcons
have to figure out a way to stop him. The last time these two squads faced off – in Week 12 with Atlanta needing a last-second field goal to pull out the victory – Green Bay's running game was obsolete. Jackson carried the ball 10 times for 26 yards (actually, Rodgers led all rushers with 51 yards), and the Packers passing game was what led them to their near win.
Now, Green Bay has Starks, and he might just be the difference.
That's what the Eagles will tell you, anyway.
For more NFL news, rumors and analysis, follow @cbssportsnfl on Twitter and subscribe to our RSS Feed .