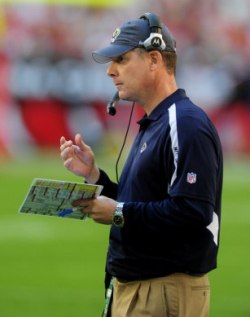 Posted by Josh Katzowitz
At first glance, new
Browns
coach Pat Shurmur doesn't seem like much of a joker. In his introductory news conference this morning, he came across as controlled and matter-of-fact.
But when a reporter asked him if he would continue running the 3-4 defense or if he would move to a 4-3 defense, the former
Rams
offensive coordinator Shurmur responded, "There's a defense?"
Other than that mildly amusing line, Shurmur seemed ready just to get started, saying, "I can't wait to get off this dais and get to the task of assembling a staff."
Though he didn't get into specifics about potential coaches, it doesn't seem likely Cleveland's highest-profile assistant coach, defensive coordinator Rob Ryan, will stick around. Particularly since he
might be headed to Dallas
anyway.
A few highlights from Shurmur's presser:
"You dream of the opportunity to be part of an organization such as this. ... As you talk about our team and the goals for this team, it's very simple: our goal is to win the AFC North, to compete in the playoffs and win Super Bowls. Anything we talk about that doesn't relate to winning, we're getting distracted."
Shurmur said he initially would be the one to call the plays on offense: "That really is the fun part for an offensive coach."
On his potential starting QB: "Very impressed wth Colt McCoy. I think he has the skill set and the skills and abilities to be a fine player in this league"
Team president Mike Holmgren said new Broncos coach John Fox was on the list of candidates, but in the end, he wanted a coach with a background in offense.
And a bonus quote from Holmgren: "You just can't keep changing things around here every two years. You can't do that. My hope and prayer is that the changes stop and the growing and building begins. We took some strides last year. My hope is that this will be the coach for a long, long time."
For more NFL news, rumors and analysis, follow @cbssportsnfl on Twitter and subscribe to our RSS Feed .