Posted by Andy Benoit

Want to see how an NFL organization runs itself into a long-term rut? Just follow the public spectacles of Stephen Ross. The
Dolphins
owner went on 940 AM radio and talked about the team and head coach Tony Sparano.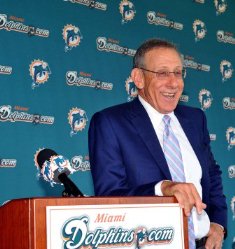 "I've told Tony that, to me, I want an aggressive, creative (offense), not playing just to keep it close," Ross said. "A little bit more unpredictable, and opening it up. That's what I think South Florida wants, and that's what this climate demands."
There are a handful of NFL organizations that have been marred by meddling owners who inject their Joe Fan perspective into the team's actual makeup. (
Redskins
fans know all about this.) But Dan Snyder, at least, has never been overtly public about his football opinions. And he's never gone on radio to share the specifics of any advice he's given to his head coach.
Ross, whose background is in tax law and real estate, elaborated on the sage advice he gave to Sparano (who has over 25 years of coaching experience, including six years working with Bill Parcells).
"One great advantage in Florida as the Miami Dolphins, that other teams don't have, and that's we have the weather in August, September and October," Ross said. "Our players are training in that weather, let's take advantage of it. Let's go with a hurry-up offense, let's wear them down. We've never done that. This isn't the north, where you want to just take it 4 yards and a cloud of dust. I think I look for a different brand. Seeing the Dolphins, how fans want to see them, how we win, we're going downfield, the days of Dan Marino, the days we all want to go back to."
The best part about the Dan Marino days was that the Dolphins actually had a franchise quarterback: Dan Marino. On 940 AM, was sounded unsure about whether
Chad Henne
is the right quarterback for Miami.
What Ross is saying is not necessarily wrong – the problem is that he's saying it publicly.
Ben Volin of the Palm Beach Post
writes, "Ross likely told Sparano of his vision for the offense when they met last Monday afternoon to discuss what went wrong in 2010 and Sparano's plan for the future. As for not taking advantage of the weather, Ross failed to mention that he asked the NFL last offseason not to schedule early-season 1 p.m. home games, because of the heat. The Dolphins didn't host a 1 p.m. home game this year until Oct. 24."
For more NFL news, rumors and analysis, follow

@cbssportsnfl

on Twitter and subscribe to our
RSS Feed
.