Posted by Josh Katzowitz

UPDATE (11:28 p.m.):
Well, maybe Bratkowski isn't as safe as Lewis led us to believe. According to the
Cincinnati Enquirer's
Joe Reedy, Marvin Lewis and former
Vikings
coach Brad Childress were spotted having dinner together tonight.
An interesting twist, eh?
----------
We mentioned it earlier in
Hot Routes,
but I wanted to bring up once again the assumption that
Bengals
coach Marvin Lewis will NOT terminate offensive coordinator Bob Bratkowski – who's been in the position for more than a decade, longer than Lewis has been head coach.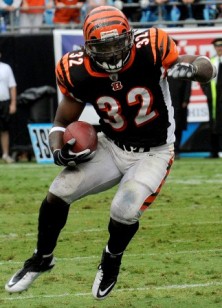 (Quick aside about Bratkowski: aside from game day and from events that demand you cover your legs, you never see the guy in pants. He ALWAYS wears shorts. Twenty degrees outside at practice? Bratkowski wears shorts. Figure skating at Fountain Square in the snow? Bratkowski wears shorts. An expedition to the North Pole? Shorts.)
The Bengals fans seem fed up with Bratkowski, who put together some wonderful offenses in the middle of this decade (
Carson Palmer
, Chad Johnson,
T.J. Houshmandzadeh
, Rudi Johnson, etc.) but lately has not had the winning formula. That's with the exception of last season when Cincinnati became a run-based offense that, perhaps not coincidentally, won the AFC North.
And this season was brutal. Palmer has completely regressed. Benson was overlooked at times. Ochocinco had the worst season of his career. So, why does it appear that Lewis will keep Bratkowski when it seems like the offensive coordinator's tenure has grown rather stale?
Um, it's kind of hard to tell. Read this quote and see if you can figure it out.
"(Fans) are clamoring for heads and I understand that. Right now at this point I'm not ready to give them heads yet and we'll see what happens," Lewis said, via the
Cincinnati Enquirer.
"I understand the frustration. If we lop some heads maybe we'll get better but maybe we wouldn't but that's what I'm looking at. Minimal might make things better and more productive. Making major changes rather than an overhaul of the system. A new system is harder than an overhaul and looking how we do it."
Maybe part of the reason Lewis won't fire Bratkowski is because owner Mike Brown won't allow it. Other than that, it's hard to figure why Lewis would keep his OC (Bratkowski being a nice guy and an extremely quotable coach probably don't count as reasons).
ESPECIALLY, when you consider that RB
Cedric Benson
might not want to re-sign with the team if Bratkowski stays (Benson was irked that the team shifted away from that successful run-heavy offense and became more of a passing attack this season).
Said Lewis: "Ced's passion and energy will make us a great football team again and I don't want to curtail that and you have to take the bad with the good. I opened up the season talking that it was going to be difficult for Ced with all the attention going to the receivers and that he was going to have to hang through this."
But one reason Benson might reconsider. Lewis plans to use fullbacks more often this season –
Chris Pressley
and
Fui Vakapuna
likely will compete for the starting spot that Jeremi Johnson used to hold.
And what about
Chad Ochocinco
? Well, if Lewis keeps firing so-called shots at his temperamental WR like this – "No one was talking about him. He couldn't stand that," Lewis said regarding some of Ochocinco's latest Twitter offerings. "You want them to talk about you,
go win football games." – he shouldn't expect Ochocinco to want to return.
Of course, maybe that would be best for all anyway.
For more NFL news, rumors and analysis, follow @cbssportsnfl on Twitter and subscribe to our RSS Feed .