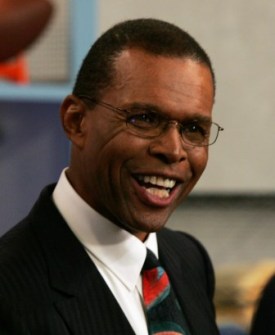 Posted by Josh Katzowitz
Gale Sayers is a Hall of Fame running back who isn't afraid to tell
Bears
fans what he thinks about their team. Earlier this season, the legendary Bears RB dismissed Chicago's success – a move that predictably drew some heat – and he's said recently that he thought he was a better kick returner than
Devin Hester
.
But Sayers also wants to know what YOU think. Which is why he's teaming up with the Pro Football Hall of Fame (along with Van Heusen and JC Penny) to highlight
Fanschoice.com,
where fans can pick who they think should make the HOF from this year's list of finalists.
Said Sayers: "We have about 4 million people who have voted for who they want to see in the Hall of Fame. There are some people they put down that are pretty good players. You have Ray Guy, Jim Plunkett, Lester Hayes and Donnie Shell. There are some people that probably should be in the Hall of Fame but they're not for some reason."
Earlier today, we caught up with Sayers and asked his thoughts about his controversial Bears predictions, about Hester's chances for the Hall of Fame and about his thoughts for Sunday's
Packers
-Bears tilt.
Previous Five Questions (or more):
Dec. 10:
former
Patriots
WR Troy Brown
Dec. 3:
Panthers
QB
Brian St. Pierre
Nov. 12:
49ers
LB
Takeo Spikes
Nov. 5:
former WR, current NFL analyst Keyshawn Johnson
Oct. 29:
Chargers
LS
Mike Windt
Oct. 15:
Redskins
WR
Anthony Armstrong

Oct. 8:
Patriots LB
Rob Ninkovich
Sept. 24:
Texans
WR
Kevin Walter
Sept. 17:
former
Bengals
,
Titans
DT John Thornton
Sept. 11:
Seahawks
RB
Leon Washington

1. CBSSports.com:
Since we're talking about the Hall of Fame and since you're already in there, what do you think about a guy like punter Ray Guy? He was the most dominant punter of his time – and of all time – and I know there is only one kicker in the Hall, but what do you think? Should a player like Guy be in?

Gale Sayers:
I was playing in the league when Ray Guy was playing in the league. He was the best kicker I've ever seen. He could bullet that ball 70 yards. He was so unbelievable. I just don't know why they're not letting a punter into the Hall of Fame. It's so crazy. One of these days he will get in there.
CBS:
Just to dismiss punters doesn't make sense to me. I mean, you see it every week how much they can affect the game. It's just kind of crazy.


Sayers:
It really is. If you have a great punter, he's almost (as valuable as a) great running back. Ray Guy was that great punter. What happens also is that a lot of those people and reporters who vote for Hall of Famers, some of the people who were around when Ray Guy was around are deceased. And some of the reporters don't remember Ray Guy. He should have been in the Hall of Fame 15 years ago.
2. CBS:
Considering you were one of the best kick returners of all time, tell me your thoughts about Devin Hester. Especially since he, like you did, plays for the Bears.
Sayers:
They got him now, and he's run back 14 kicks for touchdowns. That's pretty good. That's not bad at all (laughs). Will he be in the Hall of Fame? If he doesn't get hurt in the next two or three years, and he's still doing the same thing, there's no doubt in my mind that he'll get in the Hall of Fame. He's been a super young man to run back punts and kick returns. He has a gift to do that. You hope he goes in the Hall of Fame, but the voters might think, "Well, he's a kickoff returner, but he should be something else also." Personally, I think he will get in, but you don't know. Is (his returning only) enough to get him in the Hall of Fame?
3. CBS:
Every week, there's so much talk about how teams should play Hester. Should they kick to him? Avoid him? Punt it out of bounds? When you were playing, was there that much talk about what other teams should do about you?
Sayers:
They punted to me, and after they saw what I could do with the football, they started punting away from me. But we always had two men back. When they kicked to me, I always thought I had a chance to run it back. What we did when they knew I could run back kicks, my coaches put in the offensive line to block for me. Usually, you don't do that. You usually put in scrubs. But we had the offensive line up in front of me, and they gave me a good chance to get a block that would allow me to return the kick. With Devin Hester, they're doing some of the things they were doing when I was playing.
4. CBS:
You've taken some heat for some of the things you said about the Bears in the preseason and earlier this year. I wrote on this blog also about how I didn't think the Bears were all that good and about how those early wins seemed like flukes to me. What do you think now, and do you like their chances to play for a Super Bowl?

Sayers:
I'm not against the Bears. What I saw out there earlier in the season, they didn't look that good. I didn't think they would be competing for the Super Bowl. With them playing the Packers, it's going to be an outstanding game. I don't think it will be a high-scoring game.
Jay Cutler
, he's a fine quarterback, but I think at times he gets a little nicked up. And (Aaron) Rodgers for the Packers, he's had a hell of a season. One hell of a season. I think if Cutler is not on and Rodgers is on, the Bears are in trouble. Hopefully, we can stay free of injury, and that's one thing the Bears have done. You need to do that when you get into the playoffs. The Packers have some injuries, and that might be the difference.
5. CBS:
Tell me about the Bears-Packers rivalry when you played in the mid to late-1960s.
Sayers:
The Bears fans and the Packers fans really hated one another. But when we got on the football field, the Packers knew and we knew that they were going to give us their best shot and that we were going to give them our best shot. We talked to them on the field, but once the game was over, we shook hands and went home. When we got on that field, we hated one another. Ray Nitschke and Willie Wood – Hall of famers and great football players for them – and you have Gale Sayers and Dick Butkus and Mike Ditka for us, and we fought like dogs.
For more NFL news, rumors and analysis, follow @cbssportsnfl on Twitter and subscribe to our RSS Feed .