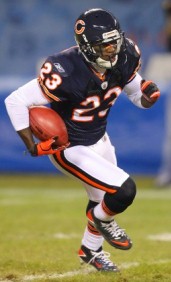 Posted by Josh Katzowitz
What is the best way to punt the ball to
Devin Hester
? I asked the same question to Gale Sayers Friday morning in our
Five questions (or more) segment,
and we never really came up with an answer.
Do you punt the ball out of bounds? Do you try to pin him on the sidelines? Do you, as the
Seahawks
did last week, say, "Screw it, we're kicking right at him?" What can do you do?
Maybe the Seahawks had the right idea, though maybe not in the way you'd expect.
The
Milwaukee Journal Sentinel
caught up with Seattle P
Jon Ryan
on Friday, and basically, the Seahawks' game plan was to kick it high and make Hester fair catch as many punts as possible.
It's not going to help your punting average – presumably, those high, end-over-end punts are going to be shorter than normal – but as Seattle showed last week, it can be effective. Out of nine punts last week, Hester let four of them bounce, fair-caught three of them and returned two for a combined total of 30 yards.
"Our plan was to go after every punt as if it was a pooch punt," Ryan told the paper. "So I kicked all the punts end over end. They told me they didn't want anything over 35 yards and get as many fair catches as we could.
"You're not going to have a 50-yard average, by any means. But you're also not going to be watching Hester celebrate in the end zone. It's a bit of a trade-off. I think it's a very effective way to control Hester.
"The game plan was to eliminate Hester. We weren't going to flip the field. Our special-teams coach (Brian Schneider) believed we succeeded."
For the game, Ryan averaged 35.0 yards per punt with a 31.7 net and a hang time of 4.16 seconds. And no Hester returned TDs.
One other interesting aspect of this article. One scout said Hester would much prefer to catch the ball outside the hash marks – meaning that trying to pin him on the sidelines isn't always an effective plan – because he knows there are less defenders there that can bring him down. Said that scout, "He won't run up and catch it. He's scared. He thinks he's going to get hit."
Read the rest of the story. There's some interesting insight there about how to deal with the game's most dangerous returner since … well, Gale Sayers.
For more NFL news, rumors and analysis, follow @cbssportsnfl on Twitter and subscribe to our RSS Feed .