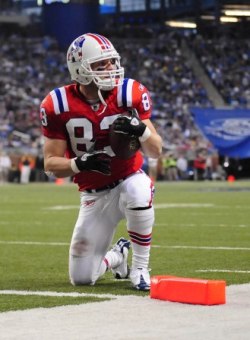 Posted by Josh Katzowitz
Patriots
WR
Wes Welker
isn't usually a loquacious guy, at least on the record. He's not going to say very many interesting things, because that's how players generally act when they play for Bill Belichick.
So, when he participated in a news conference to preview New England's playoff game vs. the
Jets
, it was almost shocking to hear Welker transform himself into Mr. Double Entendre. In his 10-minute presser, he referred to feet (in deference to Jets coach Rex Ryan)
on 11 occasions.
Of course, it was hysterical – and completely unlike Welker – and Belichick showed his disapproval by not starting him on offense during New England's playoff loss.
The
Boston Herald's
Karen Guregian caught up with Welker at the San Francisco airport as both traveled to Hawaii for the Pro Bowl, and he told her that he regretted the press conference.
"I'm not going to get into any details about it, but I don't think it's worth putting coach (Belichick) in that situation," he said. "So in a sense, I do regret it. ... As much as you might want to get enticed into that stuff, at the end of the day, it's just not worth it."
Belichick was criticized for not starting Welker – though, that probably had very little to do with the Patriots ultimately losing to the Jets – and even Patriots NT
Vince Wilfork
said he wouldn't have chosen to sit Welker. Though Welker didn't talk about that aspect of his punishment, he did imply that, at times, it's tough not to say anything while you're opponent can get away with all the trash-talking he wants.
"You know what, I think the best way to stick up for your teammate is on the field," Welker said. "I like the fact we don't get caught up in all that stuff. At the end of the day, it's about football. That's what it's supposed to be about. That's all that matters … And not getting caught up in all the media hype. It's just not worth it.
"It's not always easy to keep a lid on it. But at the same time, there's a greater goal, and that's winning the game and playing good football. That's what matters. All that other stuff doesn't matter at the end of the day."
Of course, the worst part of this story is that Welker probably won't make the decision ever to be that clever with the media again. Until he leaves the Patriots organization, anyway.
For more NFL news, rumors and analysis, follow @cbssportsnfl on Twitter and subscribe to our RSS Feed .