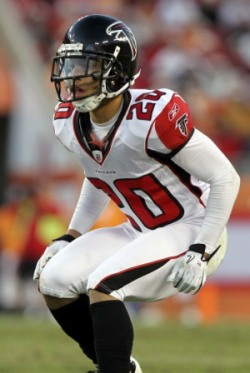 Posted by Josh Katzowitz
The NFC secondary has taken over this Pro Bowl.
You've got
Redskins
CB
DeAngelo Hall
, who intercepted
Chargers
QB
Philip Rivers
and then picked up a fumble from
Patriots
WR
Wes Welker
and returned it 33 yards for the touchdown. You've got
Falcons
CB
Brent Grimes
, who made a fantastic interception against
Colts
QB
Peyton Manning
. You've got
Vikings
CB
Antoine Winfield
who intercepted
Matt Cassel
.
You've got an AFC which has only managed 57 passing yards for the first half.
OK, so most of the rest of this game has been brutal. Defensive ends are barely getting out of their stances, offensive linemen are placing just one hand on the pass-rusher (and holding them off), and there's not much hitting.
And that's OK. The name of the game is to have fun and not get hurt, and that's exactly what we're getting.
But the NFC secondary has put on a show nonetheless, particularly Hall and Grimes, leading the NFC to a 42-7 halftime lead.
For Hall, it's a little bit of retribution for those who said he shouldn't have been a Pro Bowler, mostly because it seemed his entire candidancy was based mostly on his four-interception second half against the
Bears
in Week 6.
For Grimes, it shows as validation that the four-year player, despite the fact he was challenged a league-high 119 times this season, continued to make a name for himself with 23 passes defended and five interceptions.
For Winfield – who, like Grimes, was a replacement Pro Bowler – it shows that he still plays at a high level after 12 years in the NFL.
Other than that, yeah, it's a Pro Bowl. But at least the NFC secondary is making it exciting
For more NFL news, rumors and analysis, follow @cbssportsnfl on Twitter and subscribe to our RSS Feed .