Posted by Andy Benoit

The Steelers are arguably the best-operated franchise in football. It's easy and smart to laud their drafting, but it's what they do with those drafted players that sets the organization apart. The Steeler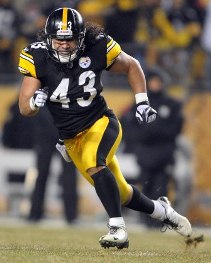 s, more than any other team, let their rookies develop out of a backup role. Maurkice Pouncey is the only first-round pick other than Ben Roethlisberger and Heath Miller to start in his first year.

Roethlisberger only started in 2004 because veteran Tommy Maddox got hurt. Miller started in 2005 because he was just too polished. (It helped that the Steelers frequently employed two tight end formations that year).Pouncey, who left Florida after his junior year, only started because his performance in minicamp and practice was out of this world. The plan had been for the 21-year-old to learn the game as a backup guard and ease into the starting lineup around 2012.

Take a look at the path Pittsburgh's other high-drafted player took to get into the starting lineup:


RB Rashard Mendenhall, 1st round, 2008

One start in his injury-shortened '08 season. Began '09 on the bench behind Willie Parker before earning the starting job in October.

WR Mike Wallace, 3rd round, 2009

The No. 3 receiver as a rookie, his promise instilled in management the confidence to dump Santonio Holmes in 2010.

DE Ziggy Hood, 1st round, 2009

Came off the bench all last year. Would have stayed in a reserve role this season if not for Aaron Smith's triceps injury.

ILB Lawrence Timmons, 1st round, 2007

Was drafted to play outside linebacker and learn the game behind James Harrison. However, slow progress on that front led to a position change, which proved to be a brilliant move. Timmons took over inside for Larry in 2009. By 2010, he was one of the three or four best 3-4 inside linebackers in the game.

OLB LaMarr Woodley, 2nd round, 2007

Spent his first season learning the ropes behind star veteran Joey Porter. Assumed a first-string role in 2008 and posted 11.5 sacks.

CB Bryant McFadden, 2nd round, 2005

Started just one game as a rookie. In fact, didn't become a starter until 2008.

S Troy Polamalu, 1st round, 2003

Struggled out of the gate and didn't start a single game in '03. Cracked the first string in '04 and has been "pretty good" ever since.