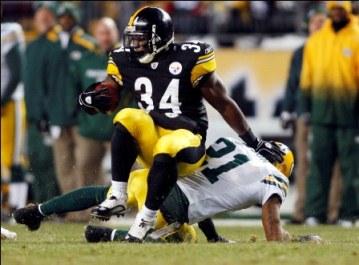 Posted by Andy Benoit

In the AFC Championship, the Steelers surprised everyone by coming out running against the Jets. On paper, Pittsburgh's banged-up offensive line was overmatched against New York's third-ranked run defense. But on the field, the opposite proved true.

With Pro Bowl center Maurkice Pouncey possibly out this Sunday (ankle/foot), one might think Pittsburgh would be inclined to come out throwing. After all, backup Doug Legursky has a noticeable lack of power, while Green Bay's nose tackle B.J. Raji has a noticeable abundance of it.

But despite the Legursky-Raji mismatch, don't be surprised if the Steelers once again rely on Rashard Mendenhall early on. Running the ball shortens the game and keeps Aaron Rodgers off the field. More than that, it decreases the number of times lumbering right tackle Flozell Adams has to fend off lightning pass-rusher Clay Matthews (Adams vs. Matthews is a mismatch that makes every member of the Steeler organization shudder; it's hard to imagine the Steelers won't concoct some form of tight end help for Adams.)

Early in the season, the Steeler offensive line and third down back Mewelde Moore struggled mightily with blitz identification. They got the pass-blocking issues in order down the stretch, but with two weeks to prepare, you have to figure Dom Capers will design at least a few new complicated zone exchanges and delayed A-gap blitzes.

What's more, whether he's blitzing or feigning a blitz, slot cornerback/rover Charles Woodson is the key to Green Bay's pressure schemes. If it's Woodson vs. Ben Roethlisberger in a presnap chess match, Steelers lose.

Super Bowl experience will have a pretty huge impact on this game as well. Here's Hines Ward on that subject:


Running the ball would ameliorate those unfavorable passing game matchups for the Steelers. But more than that, the Steelers may very well feel that they have an advantage against the Packer run defense anyway. Yes, Doug Legursky, left tackle Jonathan Scott and right guard Ramon Foster all lack the power necessary to generate downhill movement as run-blockers. But left guard Chris Kemoeatu doesn't.

Kemoeatu is one of the most mobile blockers in football. When he gets to the second level and faces linebackers, he's frighteningly nasty .The Packer defense did an excellent job at keeping inside linebackers Desmond Bishop and A.J. Hawk clean from blockers this season. (Why do you think the inexperienced Bishop and resoundingly average Hawk were the only two Packers to record 100-plus tackles?)

But the Steelers, who run two-tight end base personnel, could give those inside linebackers problems by shifting to three-receiver personnel (which would involve replacing Matt Spaeth with wideout Emmanuel Sanders). The Packers almost always use a 2-4-5 alignment in nickel defense. With only two downlinemen, Kemoeatu would have a clear path to Bishop or Hawk (and remember, in nickel, one of those inside 'backers will be off the field). In that case, Mendenhall could run inside, or, if he's lucky, get isolated on the edges against outside linebacker Erik Walden (an impressive athlete but very callow run-stopper).

Roethlisberger is Pittsburgh's best playmaker, but the run game could very well be Pittsburgh's best chance at a seventh Lombardi trophy.

For more NFL news, rumors and analysis, follow @cbssportsnfl on Twitter and subscribe to our RSS Feed .