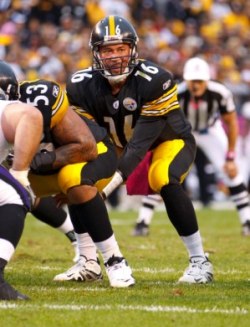 Posted by Josh Katzowitz
DALLAS – When the
Steelers
Media Day officially opened last Tuesday, backup QB
Charlie Batch
switched on his video camera and began shooting the enormous Jerry-Tron that hangs like an oversized airplane over the
Cowboys
Stadium turf.
Nobody bothered him for a few minutes. He was by himself, making memories with his camera. He was, at least until I approached, the forgotten man.
Before the rebirth of
Ben Roethlisberger
and before the Steelers won seven of eight games heading into today's Super Bowl, there was Batch and
Dennis Dixon
helping keep the team together while Roethlisberger served his four-game suspension.
Remember how we said the Steelers would be lucky to break even and go 2-2 in the season's first four games vs. the
Falcons
,
Titans
,
Buccaneers
and
Ravens
? Probably, we said, they'd go 1-3 before Roethlisberger returned.
Instead, Dixon passed for 236 yards, and the Pittsburgh held Atlanta to nine points in the season-opener, and after Dixon hurt his knee, Batch took over the starting spot. Against Tampa Bay, he threw for 186 yards and three touchdowns (with two interceptions) to lead the Steelers to a 38-13 win against what turned out to be a pretty good Buccaneers squad.
The Steelers lost to the Ravens in Week 4, but the fact Pittsburgh went 3-1 during that stretch and how much that ultimately helped the Steelers on their eventual Super Bowl run is a forgotten storyline this week. And Batch is the forgotten man.
"There wasn't anybody outside our building who thought we could do that," Batch said. "People expected us to go 1-3 or 0-4 or whatever. But we were 39 seconds away from being 4-0."
And it gave the Steelers a nice boost heading into the final ¾ of the season. To underestimate the impact that first stretch of games had on the team would be unfair to the guys who helped make it happen.
"Everybody on this team put their hand in the pot and helped us win," RB
Rashard Mendenhall
said. "Everybody knows their roles and works at them to compete. Those guys did a great job with the time they had."
For more NFL news, rumors and analysis, follow @cbssportsnfl on Twitter and subscribe to our RSS Feed .