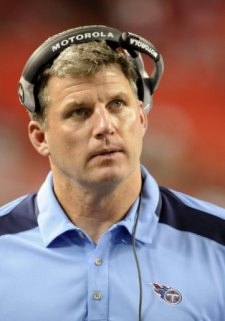 Posted by Josh Katzowitz
UPDATED (1:42 p.m.):
Well, apparently Mike Munchak thought he could do better than Mike Heimerdinger as the offensive coordinator.
The
Tennessean's
Jim Wyatt is reporting that Heimerdinger has been fired.
Said Heimerdinger: "Mike is going to do what is best for
Titans
. I know it is part of the business."
UPDATED (1:53 p.m.):
Various reports are suggesting Munchak could be after
Texans
OL coach Bruce Matthews. Apparently, the two are best friends, and even though Matthews recently received a two-year extension from Houston, he hadn't signed it. That means the Titans didn't need to ask the Texans for permission to interview him.
----------
If new Titans coach Mike Munchak wants to keep offensive coordinator Mike Heimerdinger as a Tennessee assistant, Heimerdinger would be completely fine with that.
Munchak was the former OL coach who then leap-frogged Heimerdinger – who also interviewed for Jeff Fisher's old spot – for the top position. But Heimerdinger said he was happy for Munchak, telling the
Tennessean,
"I'd be happy to work under (Munchak). I think he does an excellent job."
So, that's settled, right? Munchak has an offensive coordinator if he wants him, and he can go about getting the rest of his staff assembled.
Except it sounds like Munchak
isn't sure he wants to keep Heimerdinger.
At a news conference Monday, Munchak was asked if he'd retain Heimerdinger, who's been the offensive coordinator the past three seasons and he said, "Right now, to me anything is open. To me, we're starting fresh. It's not the same old, same old. I think we come in, figure out what's best for the Titans going forward with what we have and just go from there … Anything is possible."
Last season, the Titans finished 27th in total offense, though in 2009, they were 12th.
For more NFL news, rumors and analysis, follow @cbssportsnfl on Twitter and subscribe to our RSS Feed .