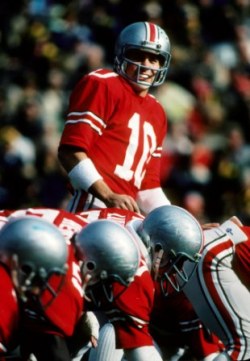 Posted by Josh Katzowitz
During Super Bowl week, we told you about former Ohio State quarterback Art Schlichter and how he was
the target of a federal and local investigation
in which he was alleged to have sold Super Bowl tickets for hundreds of thousands of dollars but then couldn't deliver the goods.
Schlichter has had a well-documented past of arrests and jail time due to fraud, forgery and writing bad checks. In fact, he's been to jail or prison more than 40 times since his Ohio State playing days, due mostly to his gambling addiction.
This morning, he was charged with a first-degree felony in connection with the theft of more than $1 million of a central Ohio widow. This, according to the
Columbus Dispatch.
Franklin County prosecutor Ron O'Brien said the sports-ticket scam has affected an unknown number of people, and the investigation is focused on tickets that allegedly were sold for Ohio State football games and last Sunday's Super Bowl. The maximum penalty of the felony charge is 10 years in prison and a $20,000 fine.
More from the
Dispatch
:

O'Brien said today's charge is related to thefts from Anita Barney, 68, the widow of former Wendy's Chairman Robert Barney. She told The Dispatch last week that she has lost nearly all her money, is estranged from most of her family and friends, and finds herself in the middle of a local and federal investigation of Schlichter.

In an exclusive interview with The Dispatch, Barney said that Schlichter swindled her and dozens of her friends and associates out of millions. She said that Schlichter, who was released from prison in 2006 after serving about 12 years for fraud and forgery convictions, used and intimidated her after she attempted to help him with a loan of $100,000.

"I trusted him and that he was trying to help others now," Barney said. "And that decision has cost me nearly everything." For more NFL news, rumors and analysis, follow @cbssportsnfl on Twitter and subscribe to our RSS Feed .