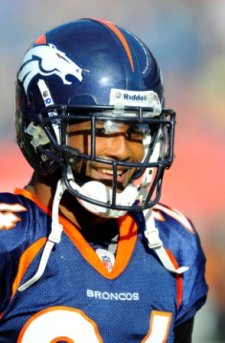 Posted by Josh Katzowitz
Andy already mentioned this in today's
Hot Routes post,
but let's explore a little more the reasons why
Broncos
CB
Champ Bailey
, who's set to be a free agent, has placed his house on the market.
Only two explanations come to mind:
1)
He's tired of living in a multimillion dollar hone and wants to downsize to a small condo.
2)
He's ready to get the hell out of Denver.
Sounds like it might be No. 2.
As
Rapid Reporter
Lee Rasizer points out, the chances of Bailey staying in Denver diminished in October when the organization pulled off the table an offer for a contract extension. The fact negotiations with the team haven't progressed to Bailey's liking, the fact the Broncos haven't been to the playoffs in five seasons and the fact Bailey would have to play for his fourth head coach since 2008 probably doesn't sit well with him.
Of course, Denver has some concerns as well. Namely that Bailey will turn 33 before next season, and though he remains one of the best cornerbacks in the league, he's not quite as good as he's been throughout his career.
Plus, at some point, he'll move to the less-demanding position of safety, so it might not make sense to give Bailey the kind of money commanded by the top corners in the league if he's not long for that position.
The Broncos, though, haven't cut off talks with Bailey yet. According to
Vic Lombardi,
the team has offered Bailey a contract in the neighborhood of four years and $40 million. But the lack of guaranteed money apparently isn't reassuring to Bailey.
"We've had some dialogue there," coach John Fox told the
Denver Post.
"There have been discussions. He's a guy we definitely want to bring back."
Bailey, though, has said his top priority is to play for a team that's in a position to win immediately. The Broncos probably are not that squad.
The fact Bailey has put his house on the market likely means he agrees with that sentiment. Unless, you know, he's just looking to move to a studio apartment to save on rent.
For more NFL news, rumors and analysis, follow @cbssportsnfl on Twitter and subscribe to our RSS Feed .