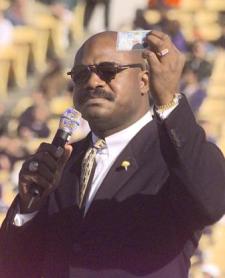 Posted by Josh Katzowitz
In the middle of the NFL Alumni news conference during Super Bowl week in Dallas, former coach Mike Ditka
appeared on a video screen and urged the NFL
to increase the pension and make long-term health care last longer than five years postretirement.
I won't say Ditka was begging, but he was certainly making a hard plea for his case.
Ditka – and some of the former players who also were in attendance at that presser – know former colleagues who are suffering from early onset dementia and Alzheimer's, most likely due to the repeated head blows they took when they were playing.
So, it has to be excruciating for Ditka to hear about his former player,
Bears
S Dave Duerson
who committed suicide
last week at the age of 50.
"I knew he had some problems, I knew he lost the business, I knew all that," Ditka told the
Associated Press.
"It's just a tragedy. It really is.
"A lot of these guys have gone through a lot of suffering. You played the game, you had a concussion, and you went back in. That's how it was. If they showed you three fingers, and you saw two, it was good enough. You played the game."
One has to wonder if Duerson might have known what was to befall him the longer he lived. It's awfully telling, I think, that he wanted his brain donated for research into chronic traumatic encephalopathy, and it'll be awfully interesting to see the results after researchers at the Boston University school of medicine examine it.
The AP also reported his company had been forced into receivership several years ago and that he had lost his home to foreclosure, and that might have played a role in his downfall.
In case you haven't heard of CTE (though chances are you'll continue to hear much more about it in the months and years ahead), here's an explanation from the AP:
Chronic traumatic encephalopathy is associated with cognitive and behavioral problems later in life and eventually causes dementia. Also known as punch drunk syndrome, it has been most common in boxers. In recent years, CTE has been shown to exist in other athletes, including professional and college football players and a pro hockey player.

CSTE is a collaboration between BU Medical School and the Sports Legacy Institute that's addressing what it calls the "concussion crisis" in sports. The group has been at the forefront of research into head trauma in sports and received a $1 million gift from the NFL, which it has pushed for better treatment of concussions.
For more NFL news, rumors and analysis, follow @cbssportsnfl on Twitter and subscribe to our RSS Feed .