Posted by Andy Benoit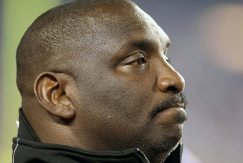 After six years in the Buccaneers front office, serving as the team's scouting director, Doug Williams left the organization last May to be the general manager of the UFL's Virginia Destroyers. The former Redskins quarterback, who is best remembered for being the first African American to line up under center in a Super Bowl, has long aspired to be a general manager in the NFL.

However, those aspirations were recently put on hold (if not abandoned) when Williams decided to take a coaching position at Grambling State, where his son is a freshman on the team.

Rick Stroud of TampaBay.com wrote about this latest career move, but it was Williams' comments about his time with the Bucs that's the real story. There are only five minority general managers in the NFL.

"The good ol' boy network is alive and well,'' Williams said. "But it's changed from the good ol' boy network to the fraternity. I always find a way to overcome and just keep going forward.

"I look at it this way, you've got guys sitting in the front office that never coached. I just didn't coach college, I coached high school. If you've got the patience and time to coach high school, you can do other jobs. There are guys who learned the (football) language and never got their hands dirty, per se. They can't go back and get their hands dirty again.

"I'm not frustrated at all. When I left the (NFL) the first time, things happened for me.''

For what it's worth, Williams also said that the Bucs front office wanted to draft Mark Sanchez, but head coach Raheem Morris pushed hard for Josh Freeman. (Morris was familiar with Freeman from their season together at Kansas State.)

For more NFL news, rumors and analysis, follow @cbssportsnfl on Twitter and subscribe to our RSS Feed .