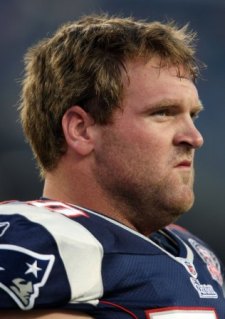 Posted by Josh Katzowitz
I wondered how long it would take for
Patriots
G
Logan Mankins
– or one of his representatives – to explode in anger when
New England franchise-tagged him
on the very first day the Patriots could this offseason.
Sure, Mankins will make $10.2 million this year, but it's not the long-term deal he's been coveting since the advent of the Eye on Football blog. And remember that Mankins had a nasty little squabble with New England front office types after they reportedly offered him a five-year, $35 million contract before last season, which he subsequently turned down, and then could get no more money out of the organization.
Fast forward to today when
CSNNE.com
caught up with Mankins' agent, Frank Bauer*.

*No relation to Jack. That we know of, anyway.
Said Bauer: "One of the best players on your football team (a player) that the coaching staff respects, it's a travesty what they've done with this player. (A new contract) should have been done a long time ago. It could have been done a long time ago. But it got stopped. And right now, we're not talking."
I'm not sure this exactly qualifies as a travesty – the people of Libya likely would agree – but Mankins obviously wants that long-term deal, and obviously, a franchise tag doesn't get him that security. Mankins thinks the way the Patriots have dealt with him isn't fair, and he's probably not wrong.
[Related: Franchise Tag Tracker]
The lack of a new contract was what led to a seven-game holdout in 2010 and a significant loss of money for the point-making Mankins, who would have made $3.26 million for the entire season if he had signed his tender before the year began. And it got nasty.
In fact, this is what Bauer had to say last August:
"They have totally lost this player mentally," Bauer said. "For this young man to work like he has and play for the club for five years, and be promised he'd be taken care of, and to throw the offer they did across the table? It was never, ever a five-year deal. They wanted six years, they wanted seven. They have to do what they have to do, and we'll do what we have to do."
Asked if Mankins would sign the franchise tender, Bauer said he wasn't sure. But no matter what, $10 million would be tough to leave on the table. No matter how pissed you are at the team, you'd have to be making quite a point in order to turn your back on that much money.
In fact,
that
would be a travesty.
For more NFL news, rumors and analysis, follow @cbssportsnfl on Twitter and subscribe to our RSS Feed .