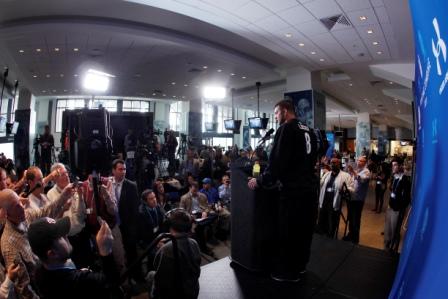 Posted by Andy Benoit
INDIANAPOLIS -- What continues to stand out about the combine is how little of the focus is actually on the incoming rookie players. Yes, the event is technically about them. And yes, teams are certainly paying close attention to those players. But so many people, both inside and outside the NFL, are here for the networking. The combine is as much a football convention as an actual scouting ordeal.
I spent Friday running from one Indy hotel lobby to another, meeting people from various teams. These meetings were off the record; a lot of front office execs are reluctant to speak without the permission of the general manager. The meetings only reinforced the impression that the rookie players are only part of the scene here. There's a considerable "behind the scenes" focus on the business/financial side of the sport. There's almost a casual approach to the combine events themselves.
This, of course, could be because we're still yet to see any major workouts (only special teamers have gone thus far). Or it could just be the air these execs put off. Nevertheless, what many fans don't realize is that teams' draft ideas are deeply entrenched at this point. Obviously, nothing has been finalized yet. But a bulk of the scouting and preparation was done throughout the fall. Scouts are able to visit with college coaches and learn about players by speaking with people around campus. The combine interviews and workouts seem to be, as much as anything, about bringing the general managers and coaches up to speed. (The GMs and coaches, of course, have been busy with their own team and season the past several months.)
If you're an agent, the combine is HUGE. Team execs and agents seemingly spend their entire time meeting with one another. It will be interesting to see how the mood of the event shifts once the name players actually take the field tomorrow.
For more NFL news, rumors and analysis, follow @cbssportsnfl on Twitter and subscribe to our RSS Feed .