Posted by Josh Katzowitz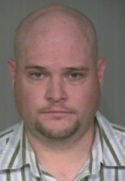 If you're going to drink in Indianapolis during the NFL combine's after hours, don't get too drunk. If you get too drunk, though, it's advisable not to urinate on any of the buildings downtown. And if you have to urinate on a public structure, make sure you don't get picked up by the cops. And if you get picked up by the cops, make sure not to show the female officer your genitals.
Unfortunately for
Rams
scout Luke Driscoll, he didn't heed any of the aforementioned guidelines.
According to
Fox 59,
the 33-year-old Driscoll was arrested early Friday morning for urinating on a downtown Indianapolis building and then exposing himself to a female officer.
Driscoll – who's been with St. Louis for 11 years, the past six as a scout – has been charged with public nudity and public intoxication.
Mug shot photo courtesy of Fox 59.
For more NFL news, rumors and analysis, follow @cbssportsnfl on Twitter and subscribe to our RSS Feed .