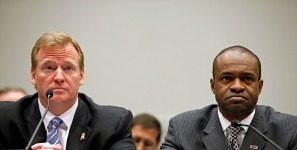 Posted by Josh Katzowitz
Even after seven days of negotiations with those representing the NFL owners and with another session scheduled for Tuesday, the NFLPA today raised the ante in the labor fight.
ESPN's Adam Schefter and Chris Mortensen
are reporting that the players union, assuming there's no progress in reaching a new CBA, plans to decertify the NFLPA on Thursday, which would preempt the owners' ability to lock out the players.
According to Schefter and Mortensen, the union couldn't decertify for six months if the current CBA expires, so from that aspect, it makes perfect sense why the union would make this move BEFORE the CBA is finished March 3.
A decertification also means that the NFLPA would no longer be a union, meaning the National Labor Relations Board would hold no sway over the NFL players. The owners, who have already claimed that the expected decertification meant the NFLPA was not bargaining in good faith, would challenge the decertification – which has been in the works for the past several months as each team unanimously voted for it during the season.
Decertifying also allows the players to file an injunction to keep the owners from locking them out, as well as allowing them to file an anti-trust suit against them (the latter of which could be the make-or-break moment in this labor standoff).
This was an expected leverage move by the NFLPA, and it's not surprising in the least. But for anybody who thought the owners and the players were close to an agreement with the current CBA about to expire – though I doubt you could find ANYBODY who actually believed that – this should dispel that notion pretty quickly.
For more NFL news, rumors and analysis, follow @cbssportsnfl on Twitter and subscribe to our RSS Feed .